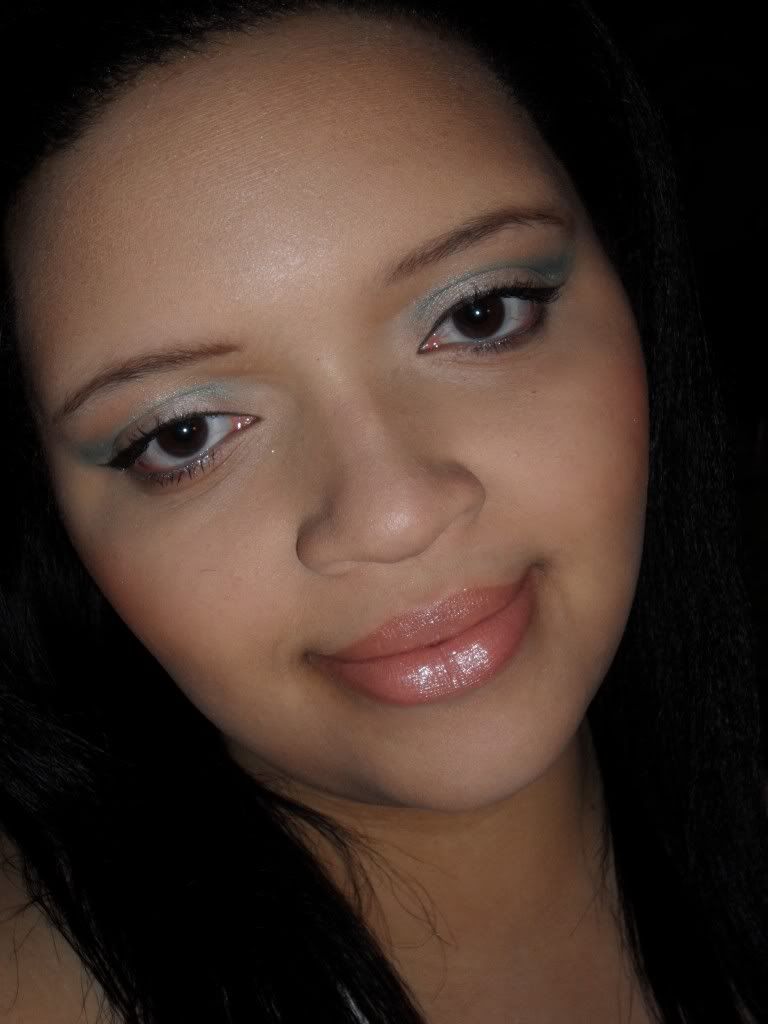 I'm always looking for new ways to get that fun pop of color without looking like a rainbow so this is what I came up with today. It's a nice sea-bright teal shining through the crease over top an ivory peach lid. When I have my eyes open I have a gorgeous halo of what reminded me of the pacific ocean. List of products after the jump!
Eyes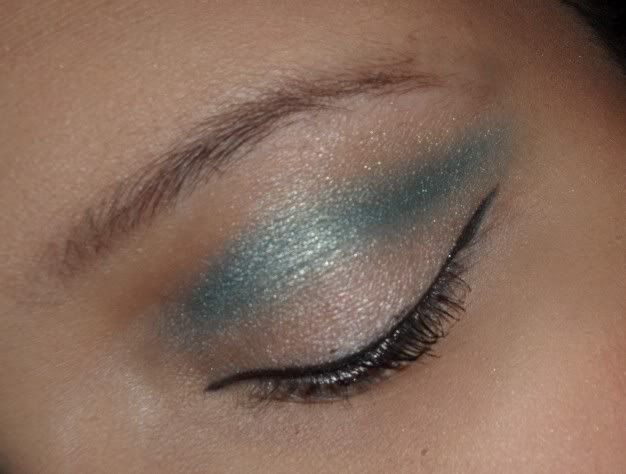 e.l.f. Studio Cream Shadow in Candlelight as a base all over the lid
Urban Decay Shadow in Skimp all over the lid (I told you I <3 this color!)

Go in with Skimp again after applying all crease colors to keep the lid color at its original intensity

e.l.f. Shimmer Eyeliner Pencil in Twinkle Teal drawn and blended under the brow bone as a base

I took this through the crease but it's important that, instead of following the crease to the outer corner of you lid, you follow the shape underneath your brow bone which will cause the line to wing out slightly above the end of your top lashline

Urban Decay Shadow in Haight on top of the shimmer liner under the brow bone

Stila Shadow in sea green shade from Big Color Wheel Palette blended on top of Haight under the brow bone

Physicians Formula Gel Liner Strips in Glam Blue Eyes (black liner only) lined thinly and closely along top lashline and winged out

Make sure when winging the liner you don't meet the liner with the crease color. Keep a small area between them.

e.l.f. Healthy Bronzing Powder in Luminance under the brow

Damone Roberts Brow Tint in Latte through brows (review to come soon!)

Milani Liquif-eye Pencil in Silver along waterline

Rimmel Max Volume Flash Waterproof on top and bottom lashes (review to come soon!)
Face
Revlon Lip Butter in Creme Brulee (swatches to come soon!)
As you can see I have a few new products that have review coming so check back soon! Have a great day!