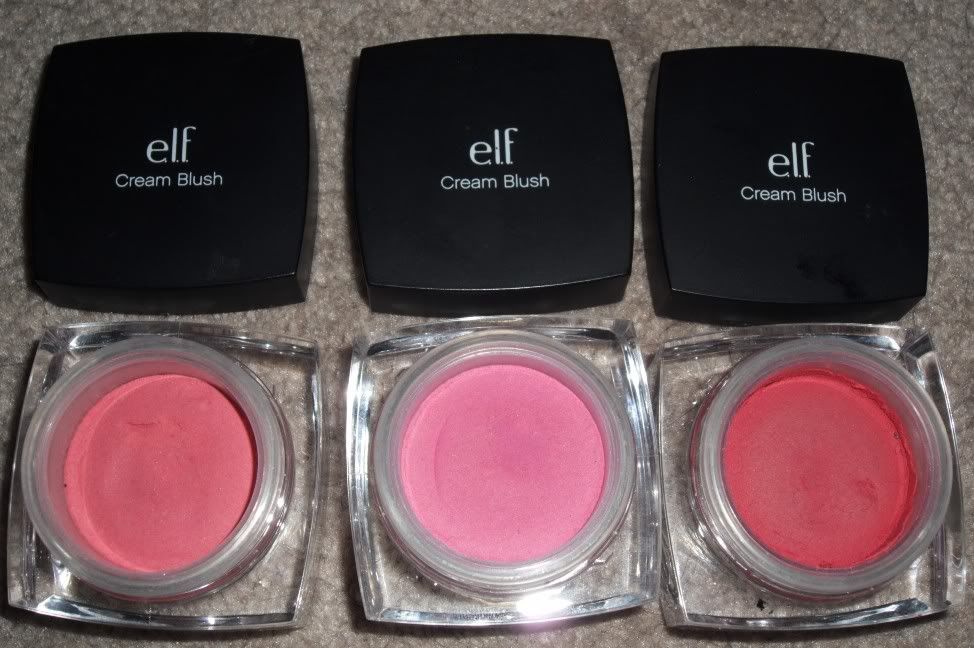 L-R: Heartbreaker, Flirt, Seductress
Note: Normally I like to give you guys pictures of products when I first get them so you can get an idea of what to expect if you were to purchase. In the case of these E.L.F. Studio Cream Blushe
s, I
've had these for a long time, way before I started this blog. So sorry for the above picture with my finger prints all over them.
But anyway, on to the actual review! I'm a big fan of these blushes from E.L.F. They're very unique in formula and they work very well to provide your cheekers with a natural flush. Read on for more info and swatches of the blushes in
Heartbreaker, Flirt, and Seductress.
When I say the formula is unique, I'm referring to it's texture. They don't feel quite like a real cream in the way that, say, the NYC Blendable Creme Sticks are. I also wouldn't call them a mousse. They're kind of spongey, but in the creamiest way possible. I have to admit that this was a bit off-putting when I first swatched them over a year ago. I was scared they would be a bit too dry. I remember in particular Flirt seemed to crumble just a bit when you swiped your finger over it resulting in too much color and some streakage.
But actually cheek application was a different story and put my worries aside. I found the best way to go in this product, whether using your finger or brush, is to pat it on top of the product and then apply it. Don't swipe the product as that's what causes the product to crumble. I like to use my Sonia Kashuk Flat Top Blush Brush to stipple the blush onto my cheeks. The result is the perfect lit-from-within freshness. In the shades I have, there are no shimmer, but it still somehow gives you a bit of natural dewiness. And I'm no longer scared that they will dry out. It seems as though over time they actually got creamier.
Top-Bottom: Seductress, Flirt, Heartbreaker
If you're looking for a classic red rouge, Seductress may be what you need. The sheerer you apply this color, the more coral it appears, but the more you build it up the more red it becomes. Flirt scared the crap out me me in it's swatch: it looks like a pink highlighter. Blended out though it becomes a flattering cool pink shade. Finally, and my personal favorite, Heartbreaker is a peachy pink swatched but pinky peach applied (I know that sounds like the same thing but I swear its not lol). It gives me the most natural flush of color, even more so natural than Milani's Luminoso! And when applied correctly it's almost undetectable that the color on my cheeks is indeed a blush. It looks like I just have a beautifully healthy flush to my face.
My only gripe with this product is the same problem I had with the E.L.F. Studio Cream Shadows: the packaging. It's hella bulky for no reason. As a makeup fanatic, I simply don't have enough room to store these guys properly. Luckily, I did see that you can remove the container that the product is actually stored in from its faux-glass tomb. I just took some tweezers to pop it out.
They're much easier to store now, but I am annoyed looking at the picture and seeing the size difference between the actual product and its packaging. Not only are they trying to make it seem like we're getting a lot more product than we really are (and charging $6 for it as opposed to the normal $3), but it's so impractical in regards to storage.
Bottom Line: Amber Likes!
I really think these blushes are worth checking out. Even though there is a price hike, and seemingly for the packaging only, if a brand like Revlon came out with the same exact thing and charged $10, (and you know they would) I would still rate this product high.
But seriously, why are drugstore brands so expensive these days. It's getting to the point where you could buy a blush at CVS, or buy a high end one for a couple more bucks. I feel like E.L.F., NYC, and Wet n Wild are the last few true drugstore brands with real drugstore products.