You guys know how much I love oversized makeup don't you? So I was bound to get my hands on the new Wet n' Wild Coloricon Bronzers sooner or later. It took me a while to find them as they seem to only be able at Walgreens, but I'm so glad to have them now, whether or not I actually needed more bronzers.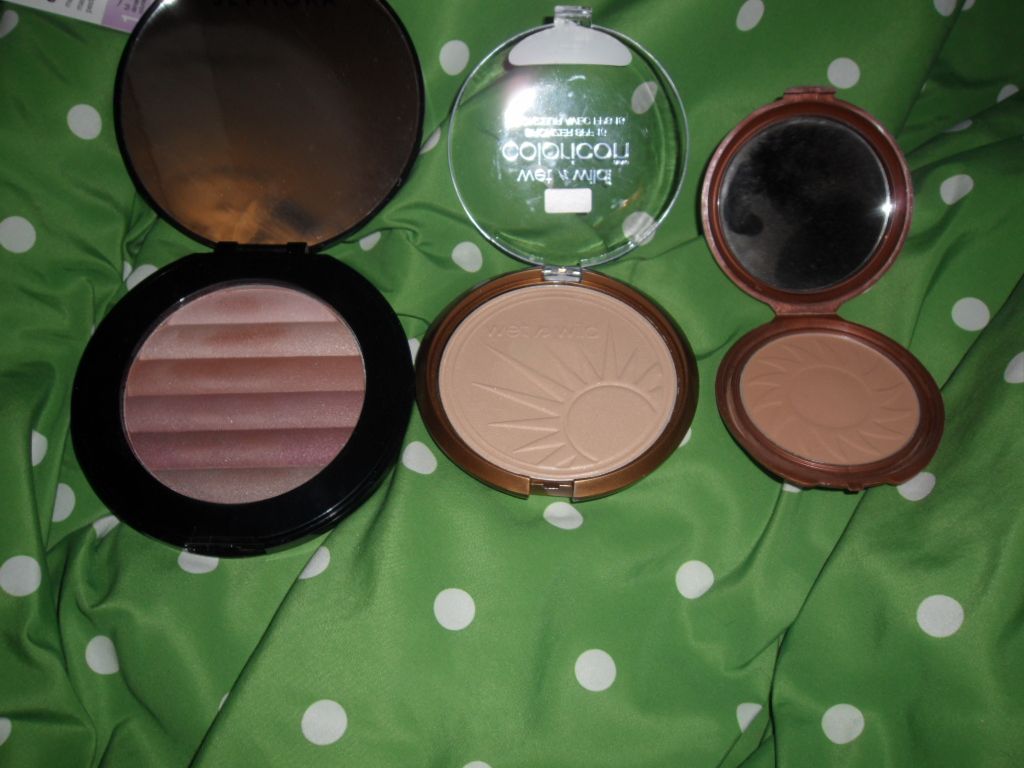 Let's first start off by showing how big these things are. Remember those huge Sephora Hot Hues Bronzers I was going crazy over a little while ago? These Wet n Wild Bronzers aren't quite that big. But when compared to a more typically sized bronzer like NYC Sunny, Wet n' Wild can certainly be seen as super-sized.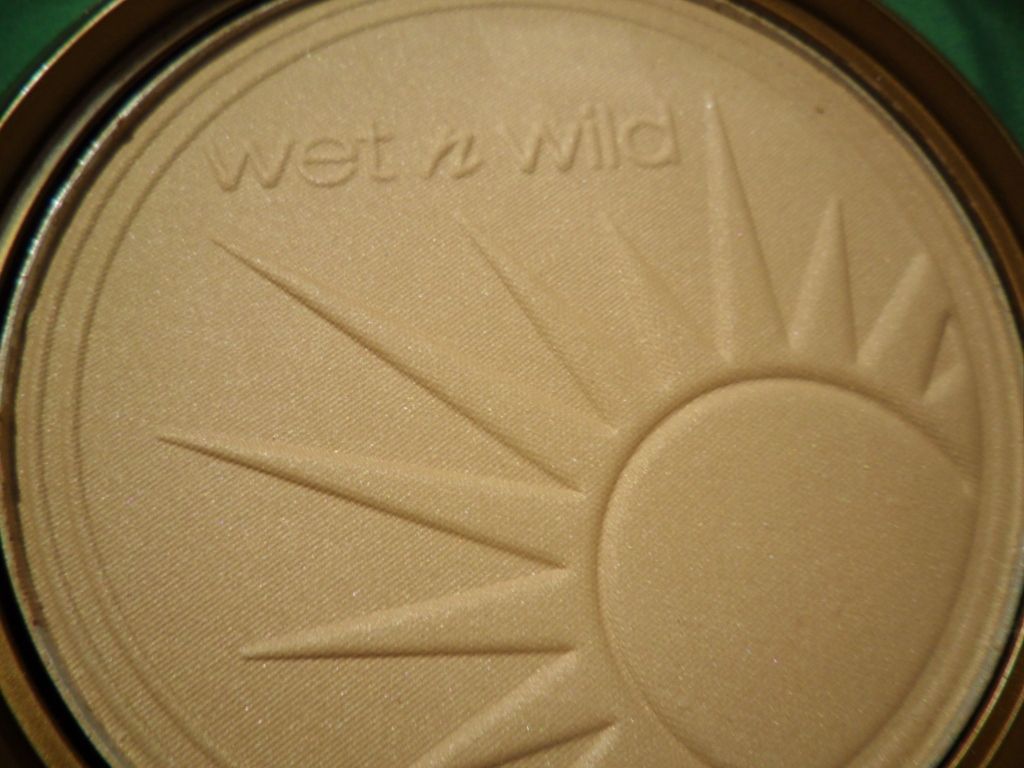 Reserve Your Cabana
Going from lightest to darkest, first we have Reserve Your Cabana. This is clearly a highlighter though, not a bronzer. I can't imagine even the palest beauties pulling this off as a bronzer. With that said however it's a fabulous highlighter. I love highlighters that have a beige color to them as opposed to a straight-off pink, pearl, or gold because beige looks a bit more natural. And the great thing is that it's not too shimmery making it even more wearable. It gives me a gorgeous lit-from-within glow!
Having said that I was a little disappointed about this because I heard it was supposed to be a reformulation of an old beloved powder from them called Acapulco Glow. I've never used this shade myself, but from what I heard from various other blogs it was a gorgeous highlight like this, but with a subtle pinky undertone to it as well. I don't have any highlighter like it and was anxious to try Reserve Your Cabana. Unfortunately I can't detect any type pinkiness to it. It still pretty as it is though.
Ticket to Brazil
Matte bronzers are so much easier for me to pull off that that's what I normally go for. So I've been trying to find a shimmery bronzer that actually flatters me and I think I found that in Ticket to Brazil. It's a nice golden brown with just the right amount of gold shimmer to give a glow without the fake glittery look. I wore it yesterday and gave me an almost undetectable (undetectable as makeup, that is) bronze glow all day.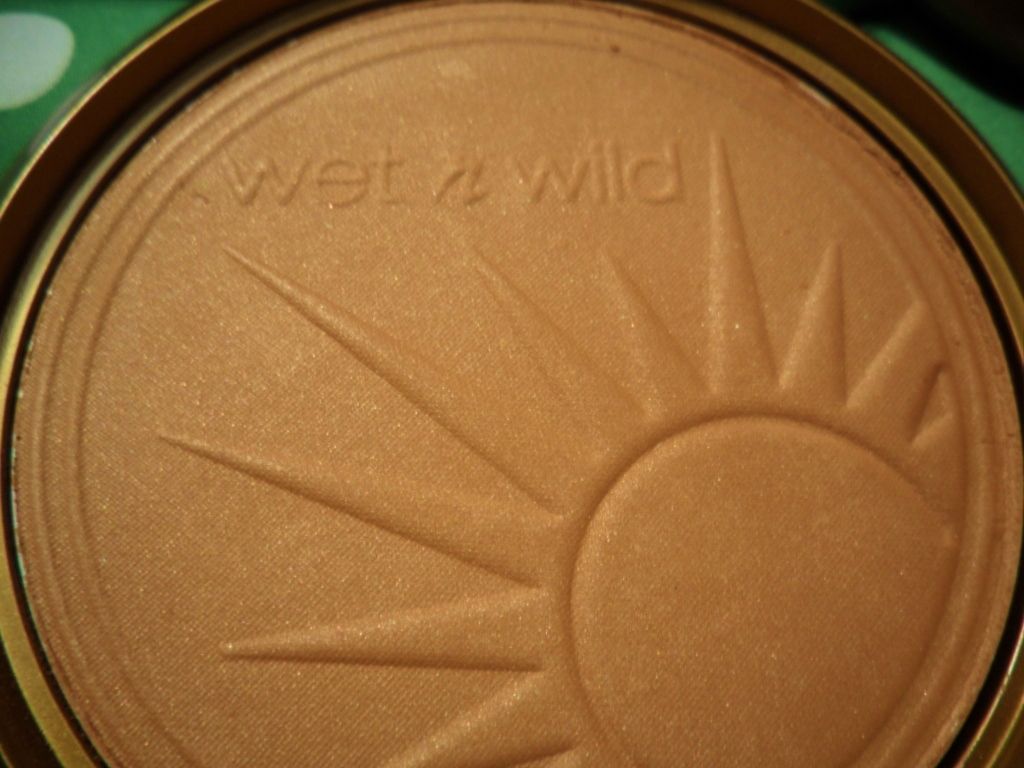 Bikini Contest
Finally, Bikini Contest is about a shade darker than Ticket to Brazil but with a reddened undertone. It's probably the most red bronzer I own. It appears to have a slight shimmer to it in the pan, but when applied it pretty much looks matte. As a bronzer it's just as great as Ticket to Brazil, but I've actually been using this the most as a transition color on my lids. It warms up any shadow look so perfectly that I can wear even the most bright shadow during the daytime without feeling too outlandish. So far Bikini Contest has had an almost everyday usage out of me.
L-R: Bikini Contest, Ticket to Brazil, Reserve Your Cabana
One of my worries for this product initially were that they would be too pigmented and powdery for my face. These were my first face products from Wet n' Wild and I was thinking they would be the same texture as their shadows, which are very soft. That kind of texture is great for shadows but not always so awesome for your face. I'm happy to say though that this is not a problem with these bronzers. While they are soft and pigmented, they blend in with skin very easily so to only enhance your skin beautifully.
As a nice added touch, these bronzers also contain SPF 15. I'm guessing it is this that gives them a slight pleasant smell. I'm not sure how to describe the scent except that it's fresh and not normally what you smell from bronzers.
Bottom Line: Amber LOVES!!!!!

<3<3<3<3<3
As per moi, these are highly recommended. I haven't tried the original Coloricon Bronzers that are still available at other drugstores but I imagine these are a suitable upgrade. To save you guys some time, if you're having trouble find these, try your local Walgreens for $4.99. I'm not sure but I think they're exclusive to them at the moment.