As both a beauty enthusiast and beauty blogger, few things excite me more than when I come across a product that has absolutely going for it. Products that not only do not let me down on any front but also pleasantly surprise me are my favorites. So is the story with L.A. Girl's Pro Conceal HD Concealer. Haven't heard of it before? That's OK, all you need to know right now is that they're only $2.50 a pop and are phenomenal! Check it out!
Now when I say these are phenomenal, I'm not talking "good for the price". I'm talking out of my entire collection and experience with concealers there is only 1 product that I can think of that rivals it, high end or drugstore. That product for me is Laura Geller's Real Deal Concealer, but we'll get more into that comparison later.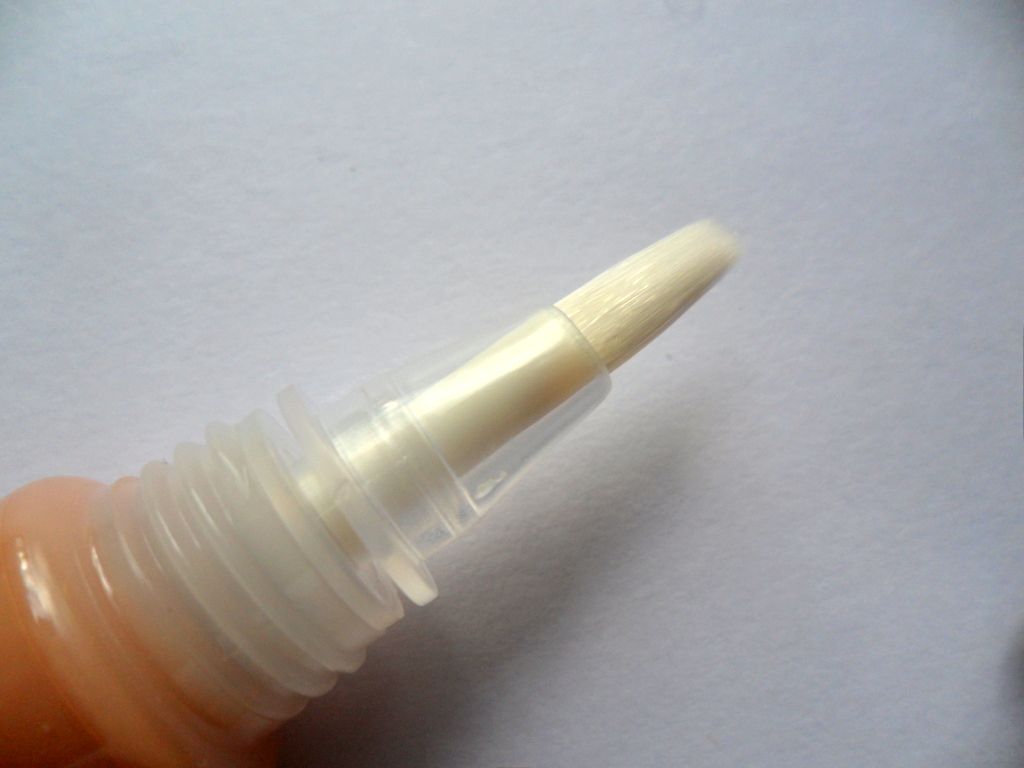 In terms of packaging, it's a simple set up here with the concealer being housed in a plastic tube which you squeeze to dispense the product through the attached brush. I know a lot of people who are not fans of this style packaging due to it's potential for being unhygienic. Personally, I don't mind it since I really only ever do my own makeup. And I love this a million times over the click style pen concealers as it's easier to dispense.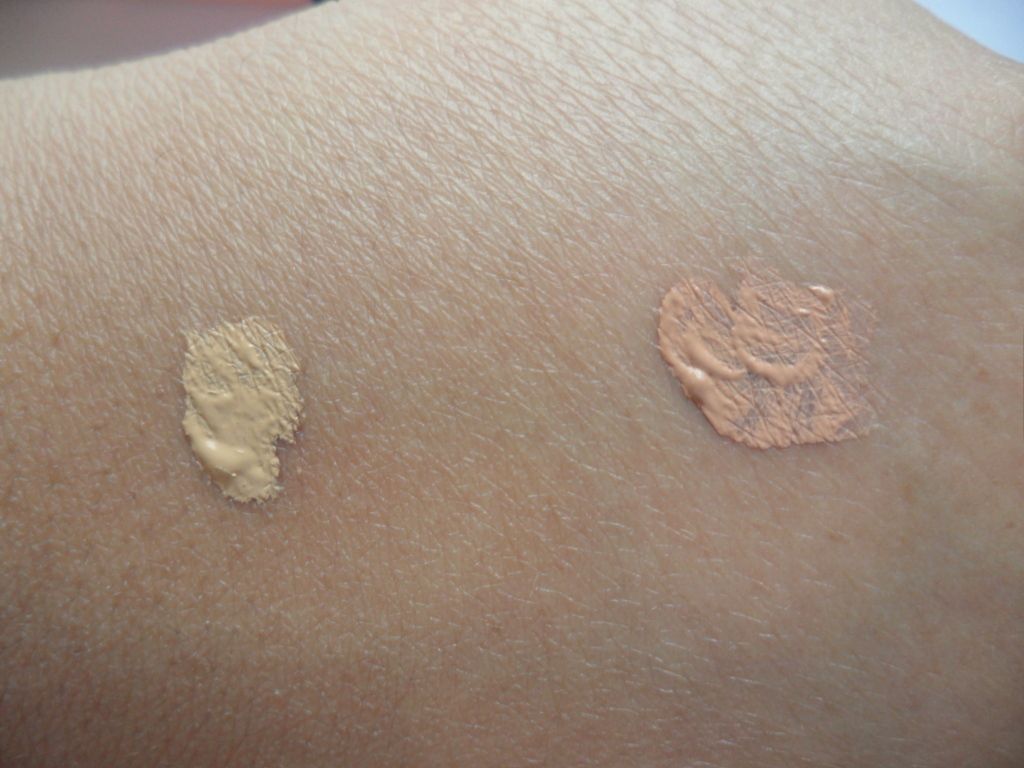 Pure Beige (L) & Nude (R)
I chose the shades in Pure Beige and Nude. The swatches online were impossible to try and go by so these were the best I could come up with. As it turns out, Pure Beige is perfect for me. (For reference, I'm about an NC40/42 right now) It has a yellow/beige undertone that's just a shade or 2 lighter than my natural skin tone. Nude on me is way too pink by itself but sometimes I like to mix it with Pure Beige to get a more peachy tone for when my dark circles are out of control.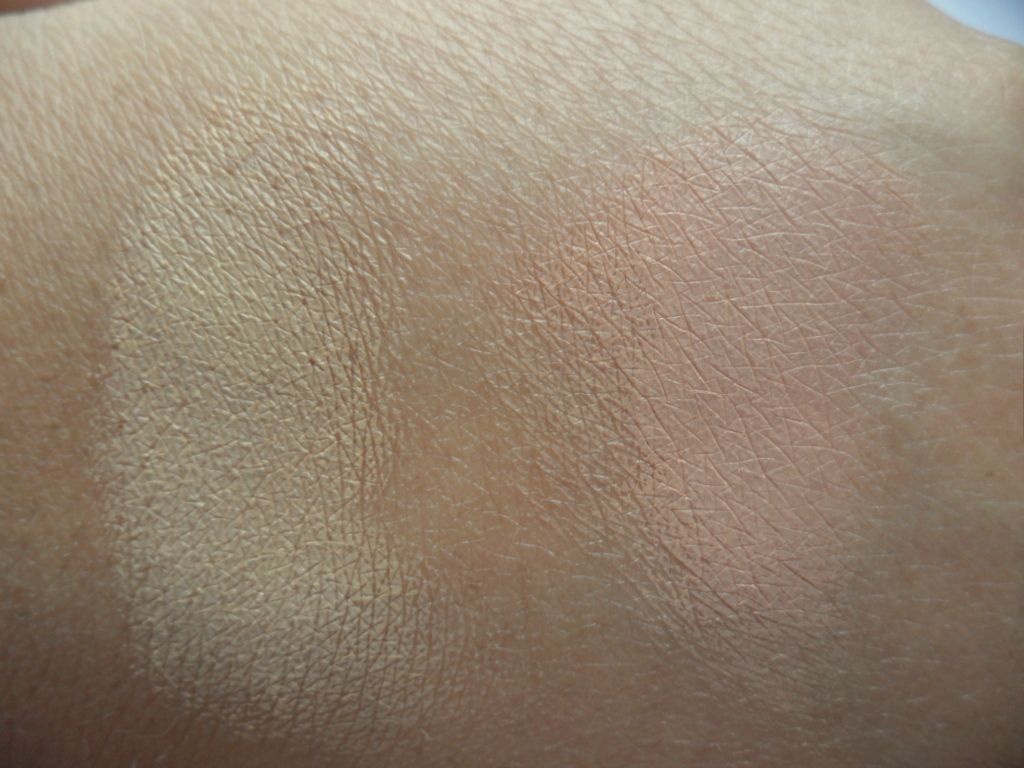 Above Swatches Blended
I would say this concealer is a solid medium coverage but damn near full. The texture of it reminds me of Laura Geller's Real Deal Concealer in that it's thick and creamy but doesn't settle into fine lines. L.A. Girl is still not as thick though, and you do need more of the product to get the coverage that a small dot of Real Deal will get you. Keep in mind however that Real Deal is $20 (and it's worth that ) and L.A. Girl is $2.50.
Yesterday where I live it was 90-something degrees and I was sweating like pig while wearing this concealer. I did notice some undereye darkness starting to peek through under my left eye by the end of the day, but my right undereye remained perfectly concealed.
The only con that I can think of for this lie mostly with having to choose which shade is good for you. The only place I know to purchase this is on CherryCulture.com and the swatches there are utterly useless. For the most part, it seems like the undertones of the swatches are correct but the actual colors are way off.
In terms of shade range, there are 18 which sound great until you see the swatches. At least 10 of these shades are intended for ladies way darker in skin than me so the range pretty limited for lighter skintones. On one hand, it's great to see a brand for once putting out a suitable amount of shades to cater to deeper skins, as they so rarely do. On the other hand though, I wish companies would just put out a decent amount of shades to suit the vast majority of people out there who range anywhere from very very pale to very very deep.
Bottom Line: Amber LOVES!!!!! <3<3<3<3<3
You're not going to find another concealer of this caliber in this price range. Heck, you might not find another one in a typical drugstore price range. For $2.50 you really can afford to give it a whirl.