I just couldn't resist taking advantage of the sale I mentioned theBalm having on their website a couple weeks ago. All 3 palettes for the price of one? Yes, please! Check out the swatches after the jump!
Packaging
One thing that I've come to realize is that theBalm does its packaging REAL WELL!! They always come through with ultimate compactness while never disappointing on the cuteness factor. All these palettes (and their blushes as well) are just big and deep enough to fit their products, nothing more but you don't lose any aesthetic appeal. I love the vintage look theBalm likes to go with along with the super cute names they have for all their shades. And while other brands hog valuable (and mucho limited space) on my vanity, theBalm is just a pleasure to deal with :)
Product
As far as the actual shadows, I'm even more impressed with these than the Nude Tude palette! Not that there's anything wrong with Nude Tude, but these Shady Lady shadows are even more creamy and I experience much less fallout.
My favorite thing about these shadows are how unique many of the shades were. Upon first glance, these aren't too special, but when you really get to swatch and play with them you realize that there are such subtle effects added into some of these. For example, when I first saw Runaround Rebecca in Vol. 3 I thought it was just a muted olive color. But when I look closer I saw an almost undetectable hint of teal. I can honestly say that I don't have complete dupes already in my collection of 95% of these Shady Lady shadows, which is kind of unheard of with me ;)
Vol. 1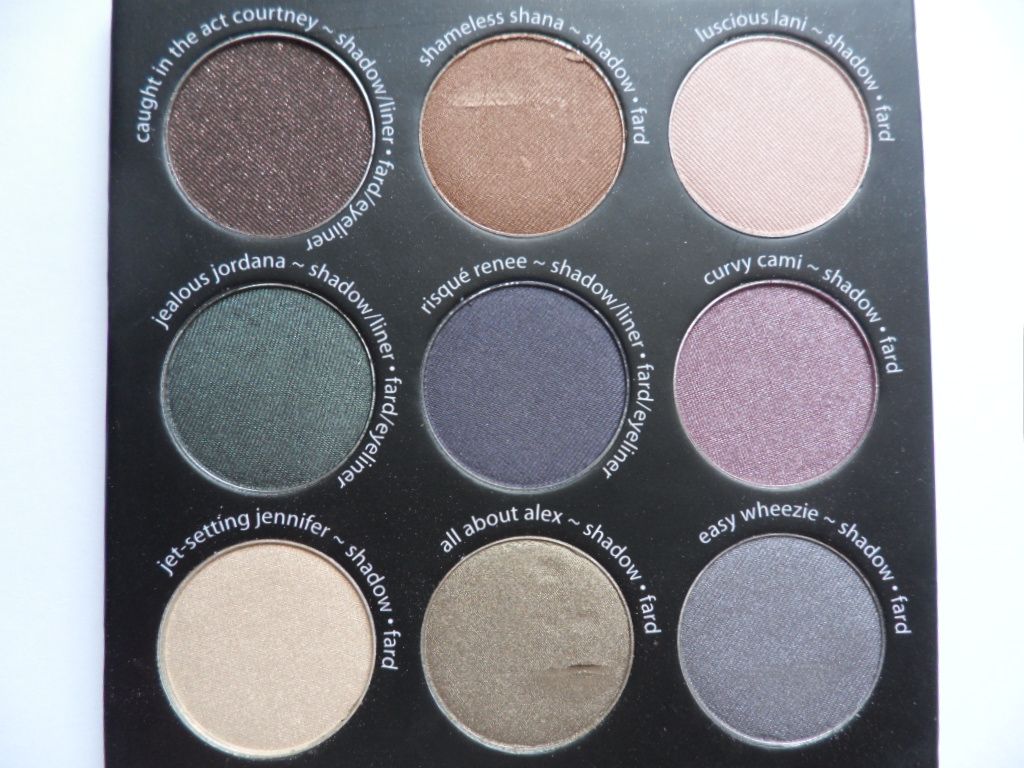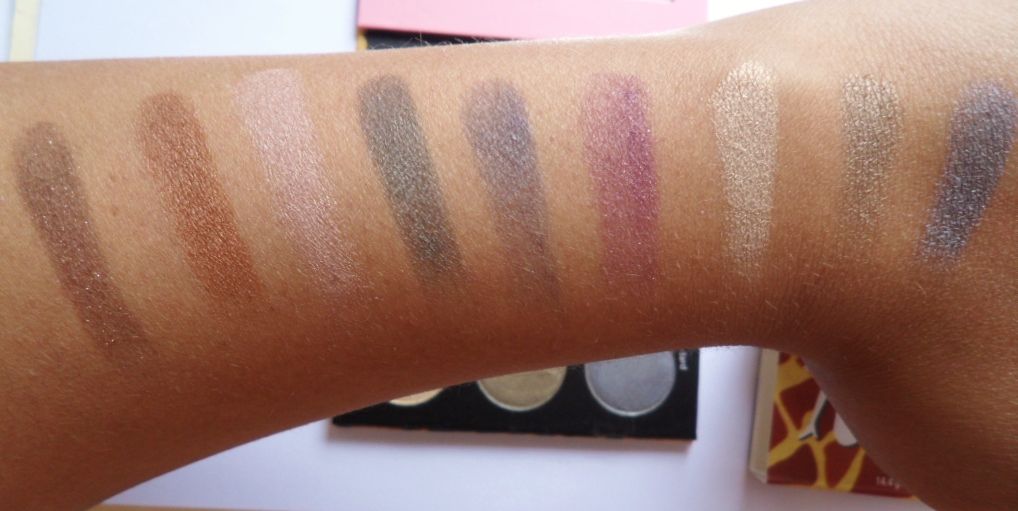 L-R: Caught in the Act Courtney (brown-black base with copper shimmer), Shameless Shana (very warm bronze), Luscious Lana (pale pink frost), Jealous Jordana (evergreen shimmer), Risque Renee (navy blue shimmer), Curvy Cami (plummy violet with gold shimmer), Jet-setting Jennifer (pale gold with stronger yellow gold flash), All About Alex (antiqued olive shimmer), Easy Wheezie (metallic gunmetal with blue undertones)
Vol. 2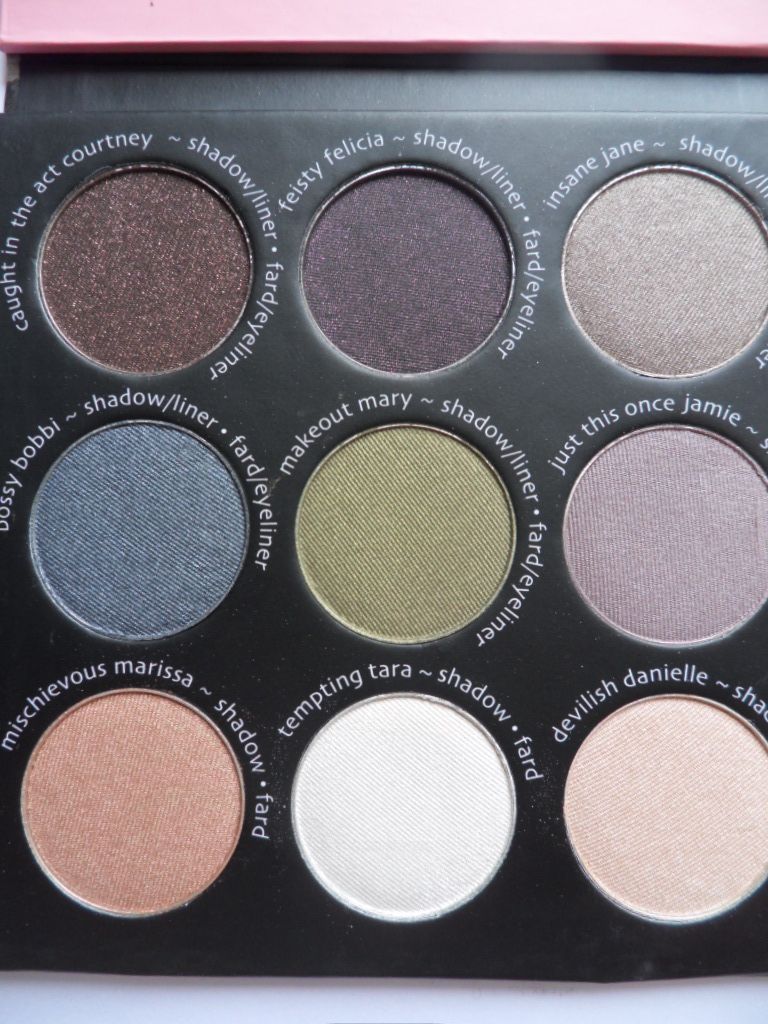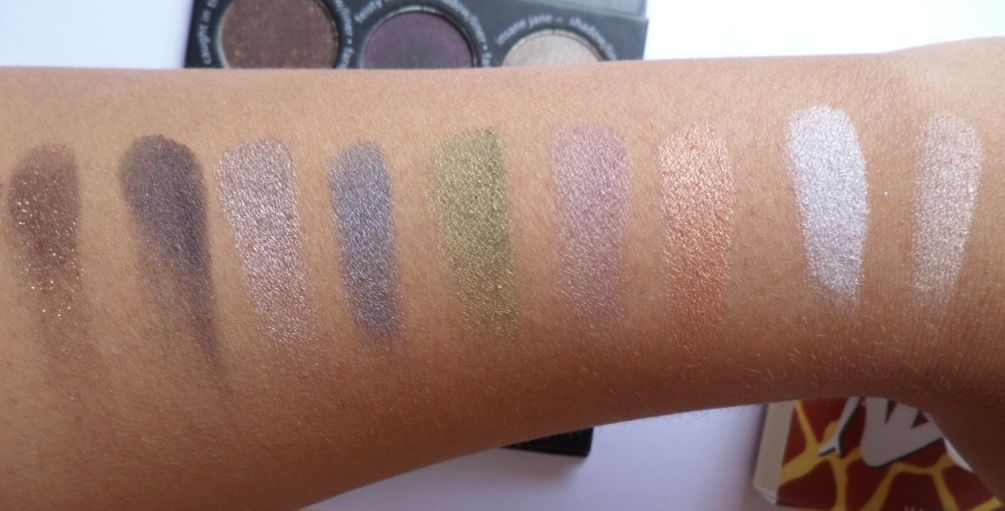 L-R: Caught in the Act Courtney (same as Vol. 1 above), Feisty Felicia (plum-black with shimmer), Insane Jane (metallic medium taupe brown), Bossy Bobbi (denim blue shimmer), Makeout Mary (golden olive shimmer), Just This Once Jamie (pinky-mauve with silver shimmer), Mischievous Marissa (orangey-peach frost), Tempting Tara (frosty white), Devilish Danielle (very pale peach frost)
Vol. 3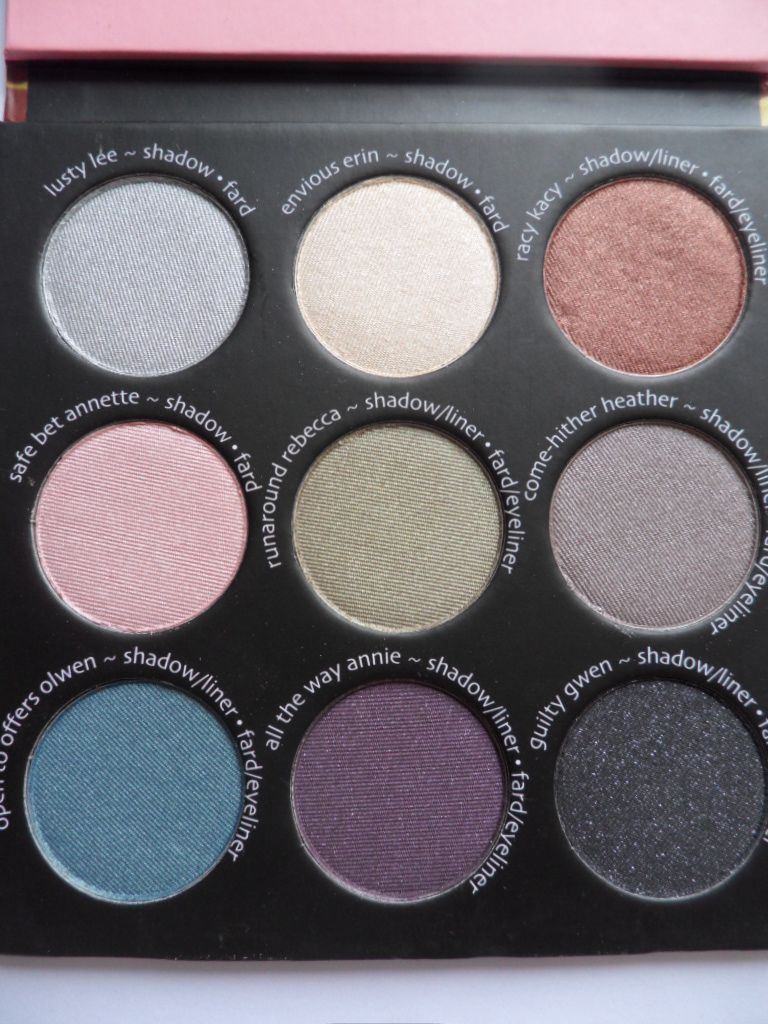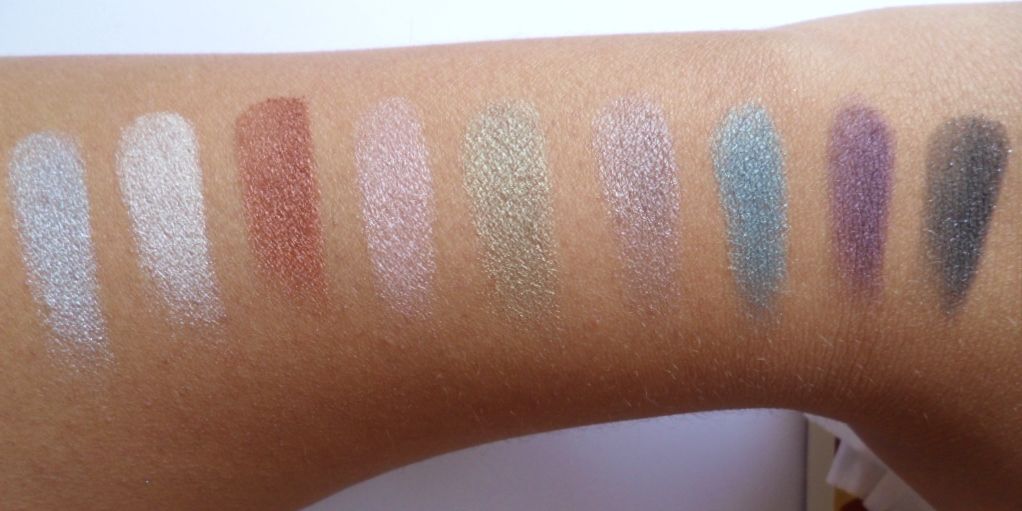 L-R: Lusty Lee (metallic gray-silver), Envious Erin (pale white-gold frost), Racy Kacy (dark metallic copper), Safe Bet Annette (cool light pink frost), Runaround Rebecca (muted olive green shimmer with subtle teal undertones - very unique color), Come Hither Heather (mauve taupe shimmer), Open to Offers Olwen (bright metallic teal), All the Way Annie (dark purple shimmer), Guilty Gwen (black with silver shimmer)
There is only 1 repeat across all 3 palette, that being Caught in the Act Courtney. No big deal to me though.
My only complaint with these is that they didn't include any matte shades. As you may be able tell from my color descriptions, all of the shadows include at least some shimmer. You can still create looks with these palettes, but I would have liked some mattes thrown in there to create more variety.
Bottom Line: Amber really really really REALLY LIKES!!!!
If it weren't for the exclusion of mattes, these Shady Lady palettes would have been a definite LOVE! I know the company makes an all matte palette but I'd still liked to have seen a few with these. Other than that they were a total win. And in the coming days I will have a look posted for each of the palettes to give you some ideas too <3
theBalm's Shady Lady palettes retail for $39.50 each at theBalm.com.