I've been debating on whether or not to do a review on theBalm's Nude'tude palette for about a week now. I figured most of you have already seen the swatches by now. What I really want to do is a comprehensive comparison between this palette and Urban Decay's Naked palette. So I decided to just give you guys a quick personal take on the palette in case some of you would prefer a review first and then tomorrow I'll do the comparison. I can tell you now that I really like this palette and am glad I bought it. Check out the swatches and more info after the jump!
I purchased this from Hautelook.com and was a teensy bit disappointed to find out there were 2 types of Nude'tude palettes (Naughty and Nice) and I had received the Nice one. This is trivial of course, the shadows are exactly the same in both palettes the only difference being the packaging. Other than that the packaging is cute and slender making it easy to fit in drawers. I do love the prevailing 50s or 60s (sorry, I'm not very good at identifying style eras lol) theme that theBalm seems to have on all their products.
The applicator included is actually pretty decent. It's duo sided, one side being a small flat shader brush and the other an angle liner brush. I haven't yet used the small shader but I can vouch for the angle liner brush being excellent for lining with shadow :)
With Nude'tude you receive 12 shadows that lend themselves perfectly to the many needs of the natural eye. Most of the shades are shimmery, but they do have 4 mattes which is very nice.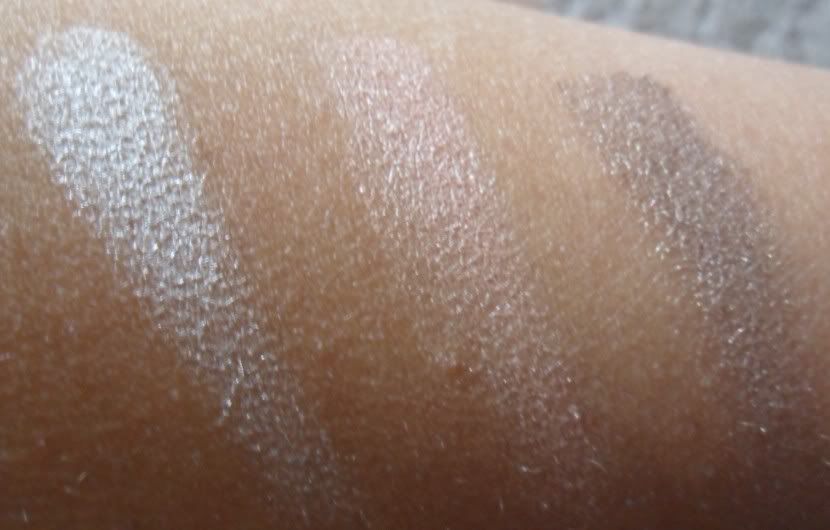 Swatches L-R: Sassy, Stubborn, Selfish
Sassy is a frosty white. Stubborn is a light shimmery pink. Selfish is a cool shimmery taupe.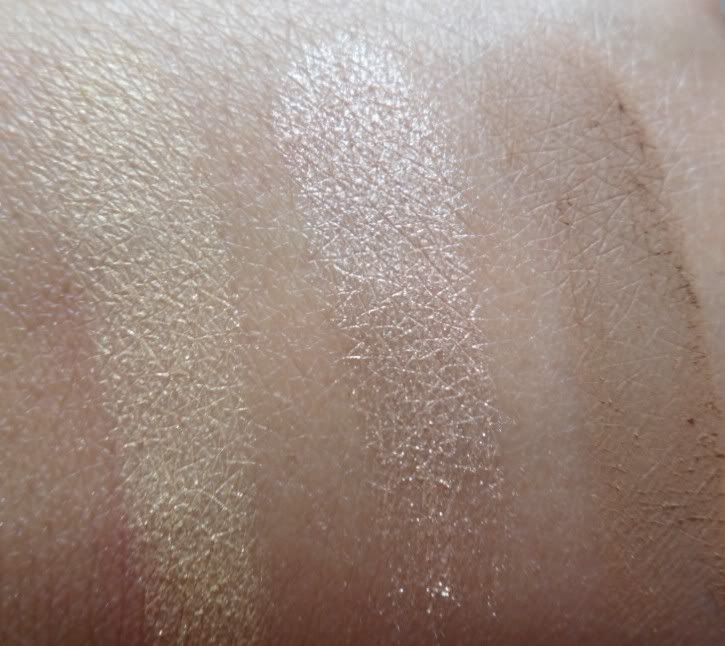 L-R: Snobby, Standoffish, Sultry
Snobby is a light, buttery, shimmery gold. Standoffish is a shimmery pink champagne (think Stila's Kitten). Sultry is a matte medium brown.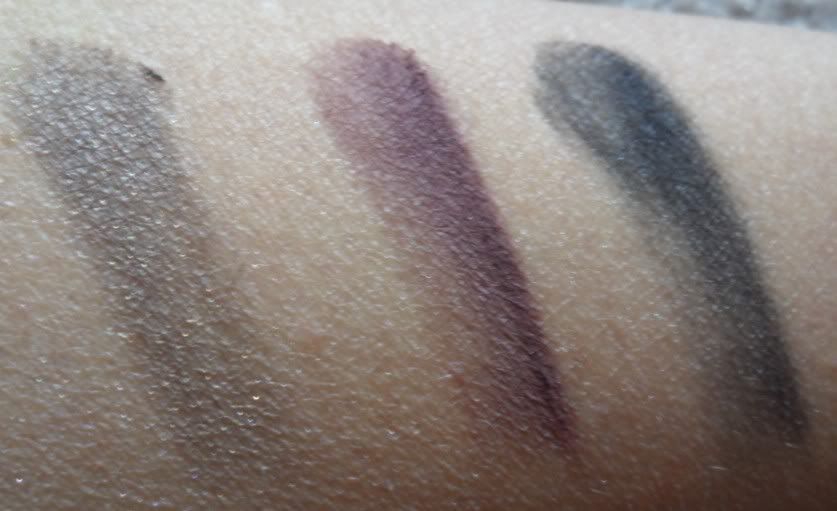 L-R: Sophisticated, Sexy, Serious
Sophisticated is a dark shimmery taupe. Sexy is a matte cranberry plum. Serious is a dark matte black.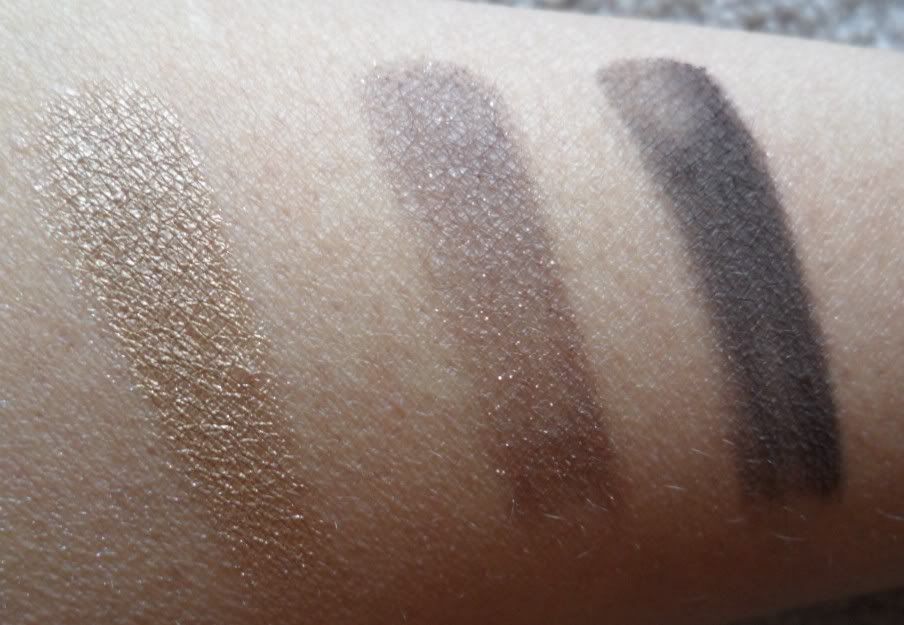 L-R: Schitzo, Silly, Sleek
Schitzo is a golden bronze. Silly is a dark brown with pink microglitters. Sleek is a dark black brown.
I really appreciate the variety of colors they include here. Just because a palette's theme is is Nude or Neutral doesn't mean the colors have to be boring. You've got browns, bronze/golds, taupes, mattes, shimmers...you're options are endless.
I found the shadows to be extremely soft to the touch, softer than any other shadow I have actually. This makes them very pigmented and easy to blend. However their softness also causes a huge mess when you go to pick up the shadow. That's probably my biggest and pretty much only gripe with the product.
Bottom Line: Amber really Likes!!!
I was very satisfied with this purchase and am looking forward to trying out some more of theBalm's shadows. You can purchase this palette at theBalm.com!
Now you may be thinking, I already have the Naked palette, do I really need Nude'tude? I considered that myself and personally I think there are enough differences in the products to justify both purchases. But if you're still on the fence check out my coming comparison between the two tomorrow :)