So I just wanted to give you guys a quick review on Garnier Fructis's Triple Nutrition Fortifying Shampoo and Conditioner for dry, damaged hair. I'm a member of BzzAgent (find out more about the BzzAgent program at BzzAgent.com) and was selected a few weeks ago for the Garnier Campaign. I have to admit, (and if you've read my prior review on the Triple Nutrition 3 Minute Undo Dryness Reversal Treatment you already know this), I was not excited to try these for a number of reasons. But having low expectations turned out to be a good thing since I was that much more surprised at how much I liked it!
I'll get started by listing the things that I haven't liked about Garnier hair products in the past. There's really only 2:
The avocado smell!!! I couldn't stand it! I realize it's not something that would bother everyone, but I just couldn't take it. And it would never wear off.

My hair never felt any different or better after I used the products. I've had better results from cheaper stuff.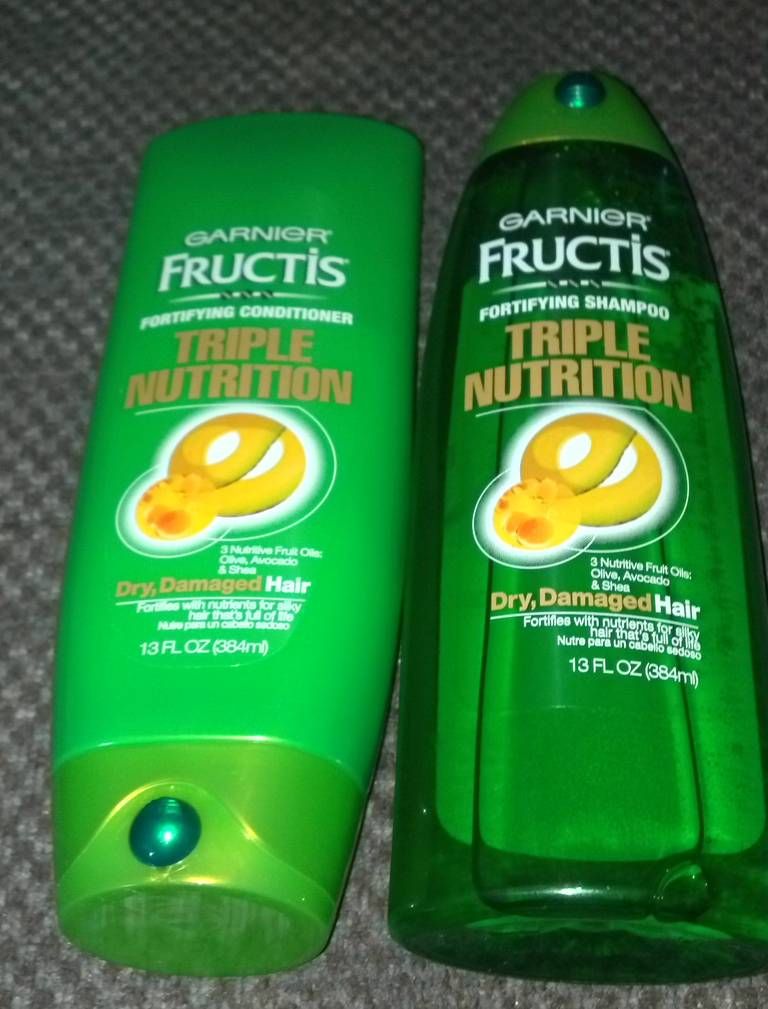 So going into this I was expecting the same ol', same ol'. The first thing I noticed was the change of scent. Instead of the annoyingly pungent avocado stench, I got a more pleasant whiff of something citrus-y with a hint of peach maybe? It's still not my favorite smell in the world, but world's better than avocado.
The company has also changed the design of the bottles. First, they've tweaked the lids a bit to make it easier to open when your hands are wet from the shower and slippery from soap. Second, they've began to make these bottles out of recycled plastic, making them more eco-friendly which is always a plus :)
Now for the actual formula and results. The shampoo was, well, a shampoo. I've very seldom come across a shampoo that I just find completely remarkable or horrible. Triple Nutrition Fortifying Shampoo was no different. It didn't strip my hair at all but my hair did feel cleansed after rinsing.
Next up was the conditioner. According to the information brochure I got with the bottles it has a "new creamier texture with no weightdown" Just by touch, I couldn't tell a difference with the conditioner from Garnier conditioners I have used in the past, but I also can't remember exactly what they felt like either. I applied the conditioner to my hair and left it in while I went on with my shower. It was when I rinsed out the conditioner that I truly noted a difference between this and not only the other Garnier conditioners but several of my other favorite conditioners as well: my hair was not tangled at all!
Lately I've been having problems with my hair being extremely tangled after rinsing my conditioner out, to the point that detangling it meant losing a lot of hair. I didn't have to deal with that this time around! As far as just the feel of my hair, it felt okay and moisturized, but nothing extraordinary. It is the lack of tangles that I'm really impressed with here.
Bottom Line: Amber Likes
These still aren't my favorite hair products, but I was pleasantly surprised by the conditioner. Not having to take the time and effort to carefully detangle my hair after washing was very nice.
You can find more information about these products and more at Garnierusa.com!
Disclaimer: I received this product complimentary from BzzAgent. I received no compensation for my review nor was I required to do a review at all. As always, all personal views and experiences expressed are my honest opinions and in no way influenced by any other party or circumstance.