I mentioned a while ago that Hautelook had a sale on the Balm cosmetics, and boy did I partake! I've been dying to get my hands on several things from the brand for the longest time as they make random appearances at TJ Maxx from time to time, but of course most things are sold before I get there or rummaged through and destroyed. So I went in on the Hautelook sale and the BalmShelter tinted moisturizer will be the first review I have for you from that haul.
Tinted moisturizer to me usually means mixing my moisturizer with foundation. I can't seem to find an actual tinted moisturizer that gives me just the right amount of coverage AND actually moisturizes like the name suggests. I'm happy to say that the BalmShelter has solved that problem for me.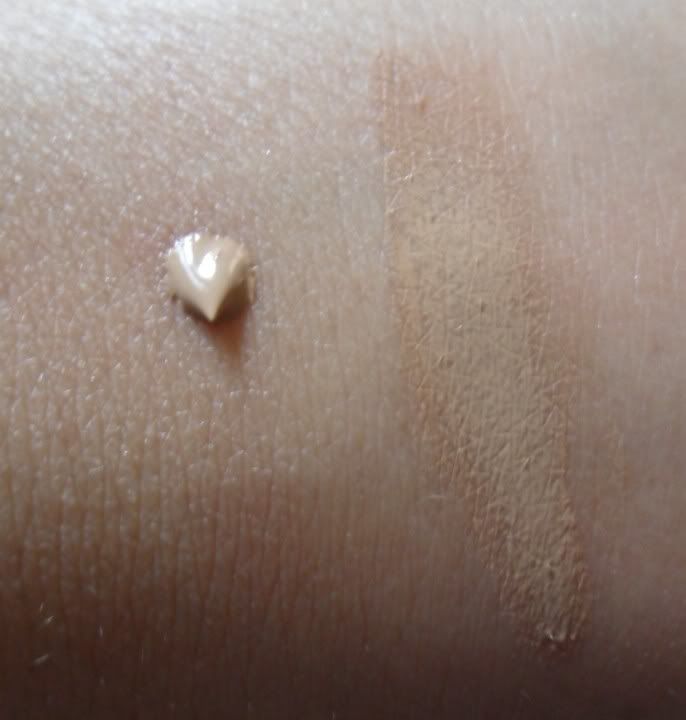 BalmShelter in Medium dispensed (L) & slightly
blended out (R)
I purchased the shade in medium, which happens to be the darkest shade (boo!), so my ladies with deeper skin than an NC42 I would say are probably out of luck with this one. I was scared that Medium would be a bit too dark and gray for me when I first dispensed the product. Then I smeared it out a bit and thought it might be too red. But once on my skin it turned out to be just the right color so this will probably work on a variety of undertones.
It gives me just enough coverage to mostly even out my skin but still remain sheer for the most part. The best feature about this product however is it's moisturizing capabilities. My skin remained perfectly hydrated through the whole day with this.
Another cool thing I discovered is how long this lasts. The first day I tried it I forgot to remove it before exercising and didn't realize it until the end of my workout. I sweat like a pig just standing still so you can imagine how drenched I was then, but I was delighted to see BalmShelter had not budged! Granted, I was wearing my Almay Smart Shade Perfect & Correct Primer underneath of it (review here) but usually nothing can withstand my sweat.
Bottom Line: Amber Really Likes!!!
This is my favorite tinted moisturizer I've tried as of yet, but I am knocking off a point or 2 due to its limited range of shades. I think this is gonna be just perfect for the summer with its sheer-very light coverage, abundant moisture, and longevity through hot conditions. You can find it at theBalm.com and Sephora.com for $25, although I'm pretty sure Sephora is phasing out the brand from their stores :( For my fellow bargain divas though, look out for another sale on Hautelook.com, where I purchased it for $11, and even at your local TJ Maxx if you're lucky.