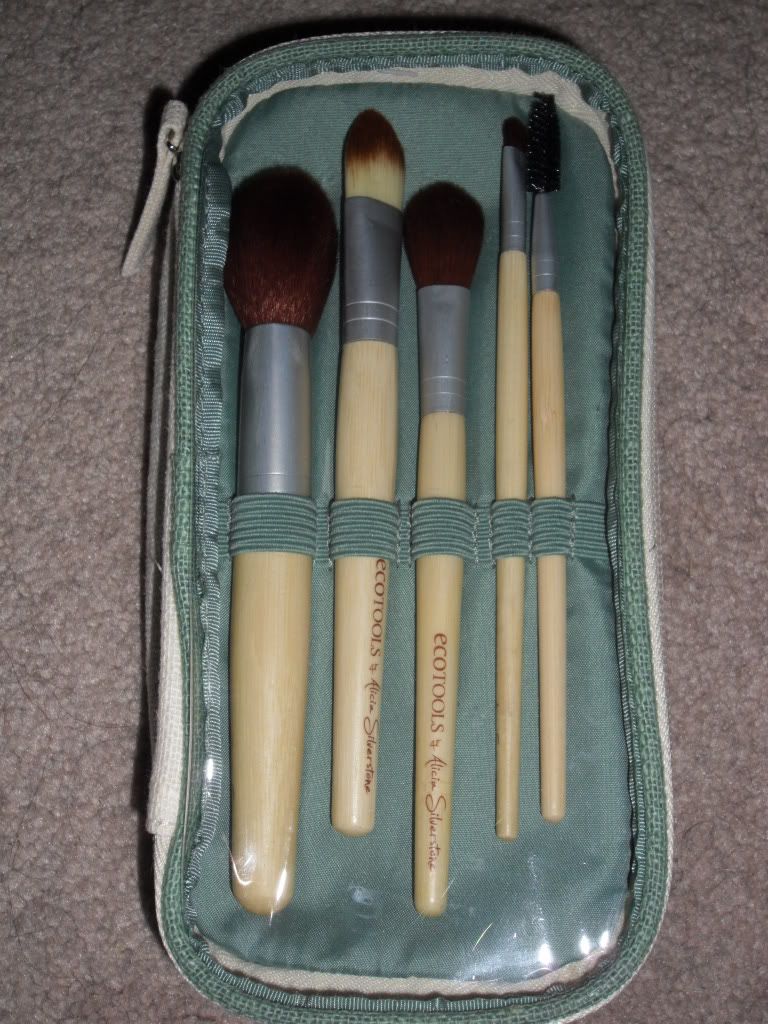 I remember the exact moment when I first watched the movie 'Clueless'. I had to tape it off of HBO and watch it the next morning since it came on after my bedtime. I loved every minute of that movie and still do to this day. Can't believe its been close to 20 years since the movie premiered, can you? The star of the film, Alicia Silverstone hasn't done much lately in the way of films as of late, but she has been making waves in the beauty industry with her collaboration with Ecotools to bring eco-friendly yet fashionable beauty implements to drugstores everywhere. I've purchased Ecotools products before, but this Brush Set & Bag is my first buy from the Alicia Silverstone line! Check it out after the jump!
As you can see in the introduction pic, this set includes five full sized brushes that are held by elastic slots in the top zippered compartment of the makeup bag. I love that she included this compartment because I hate having to throw brushes in my bag mixed in freely with my makeup; I'm scared this could possibly dirty or damage them. Luckily in this bag the brushes are kept separate and secure.
Now, let's first examine the individual brushes!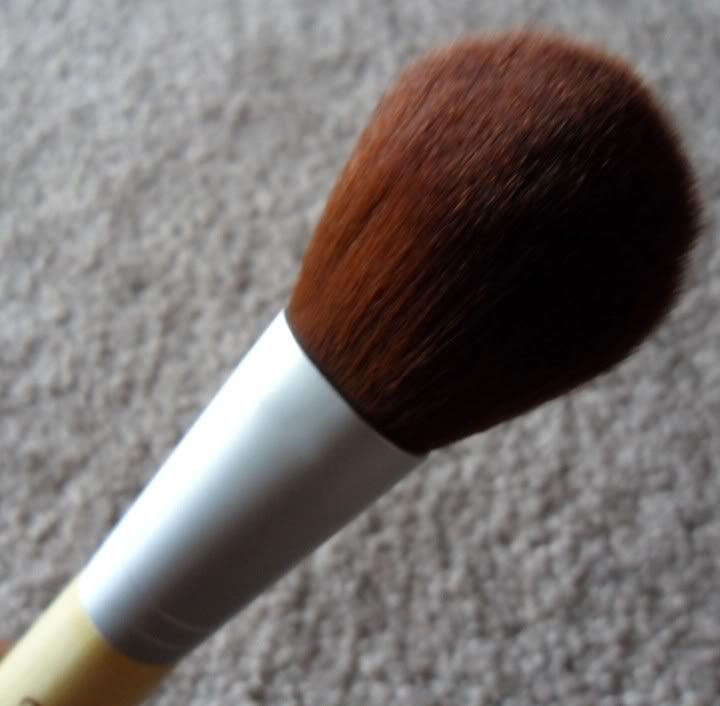 Blush Brush
This brush was actually the real reason I purchased this brush set in the first place. Rite Aid was having a BOGO sale on all Ecotools and I had intended to get the blush brush but it was sold out and this set was the only way I could get it. I believe that this is pretty much the same as the regular blush brush that the brand sells but I can't prove that since I don't own the other one. Shape-wise it is a traditional domed blush brush. The bristles are nice and soft as to be expected and it has a decent density to it.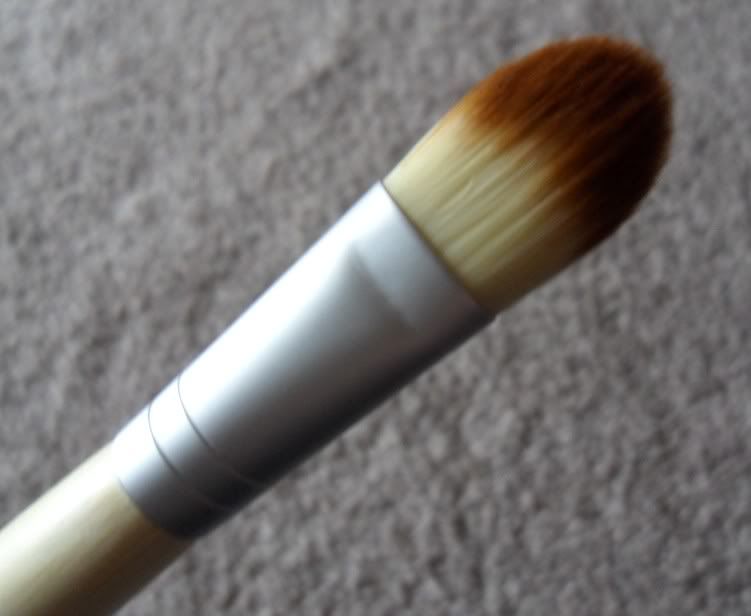 Mini Foundation Brush
The term 'mini' hear refers to the brush head, as the handle is full size. I can't imagine ever taking the time to apply a full face of foundation with this guy, it's incredibly small! It's probably more suitable for concealer application for under eyes or larger areas. You could even maybe use this to apply cream colors to the eyes or cheeks.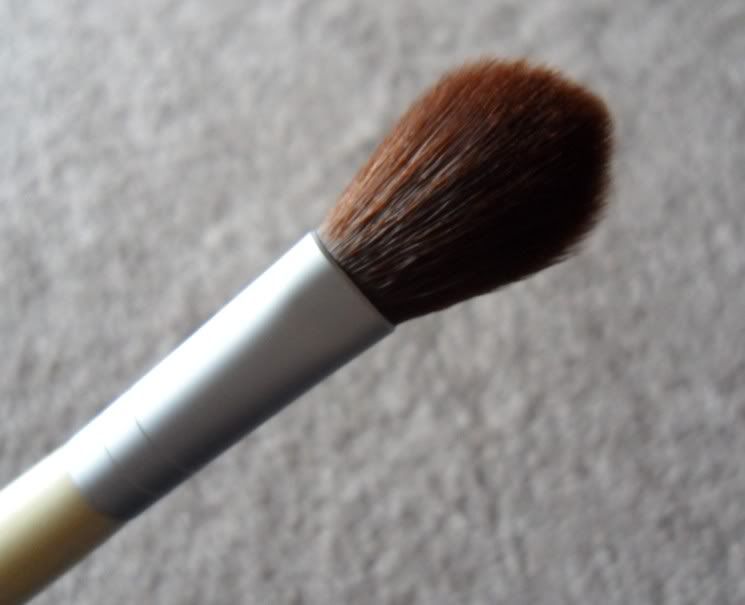 Mini Powder Brush
The Mini Powder Brush was actually the second selling point of this set for me. I've been looking for a brush like this for THE LONGEST time! It's perfect for setting concealer under the eyes with powder or applying powder highlights to the tops of your cheekbones!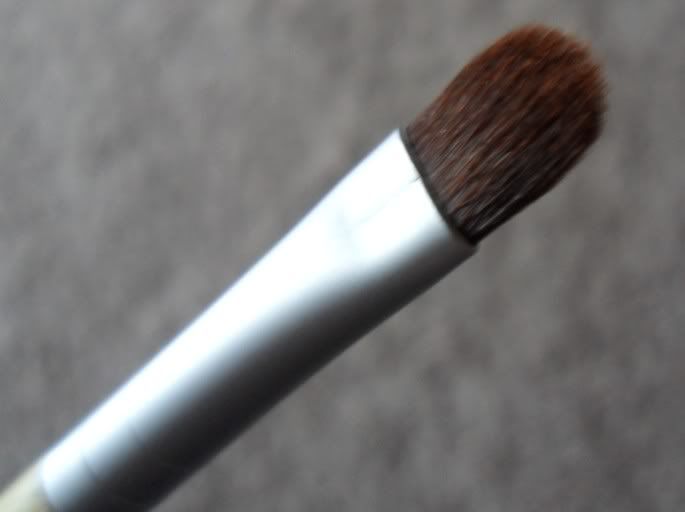 Detailed Eye Shading Brush
The Detailed Eye Shading Brush has been the one getting the most use out of me lately of this set. It's meant for, as the name suggests, any precise work you need to do with shadows on the eyes, such as applying highlight to the inner corner. However, what I've been LOVING it for is smudging black shadow in between the lashes for a great and natural thickening effect. I've literally used it in every makeup application I've done in the last 2 weeks!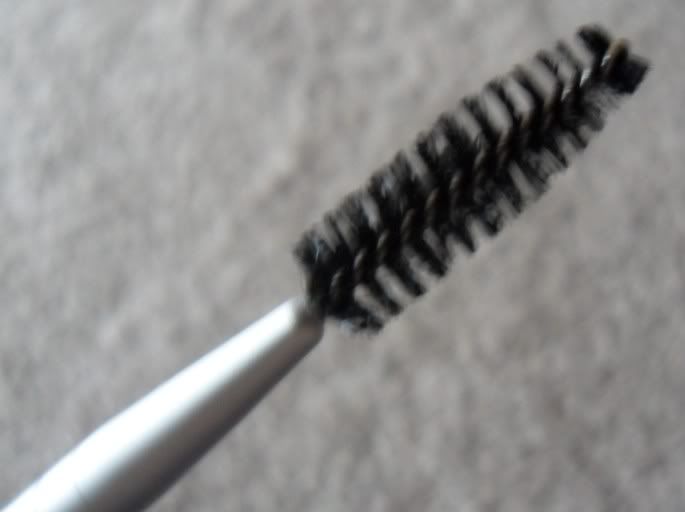 Spoolie
Last, and least for that matter, is the spoolie brush. I've never seen a spoolie brush that was any better or worse than the next one, so this one is just fine. Nothing special or lackluster, just a spoolie. It serves it's purpose.
But on to my favorite aspect of this set: the bag!
Flipping the bag over from the brushes reveals this pretty floral design on the back and a larger zippered compartment.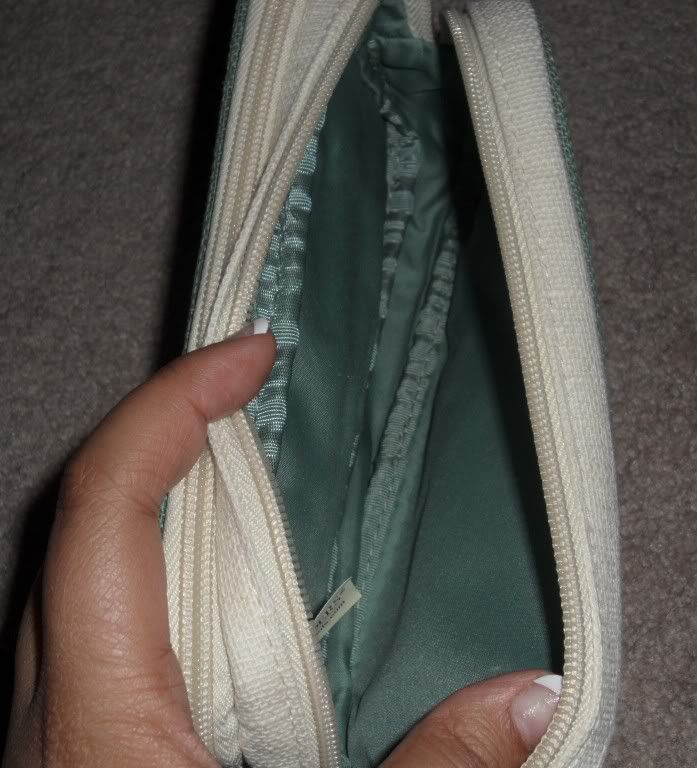 Inside, there is plenty room for your everyday makeup needs like foundations, concealers, blushes, shadows etc. I love the convenience of this bag's design!
Bottom Line: Amber LOVES!!!

<3<3<3<3<3
If you're in the market for a convenient brush kit or a smart makeup bag, this may be it for you. This quickly became my go-to bag for transporting my makeup goodies on the go! And you can also fit more brushes in the brush compartment, so don't feel like you're confined to only the brushes that came in this kit.
Kudos to Alicia Silverstone! I love this thing!
You can find this between $14-$16 wherever Ecotools products are sold near you. (I got mine at Rite Aid)
Thanks for reading :)