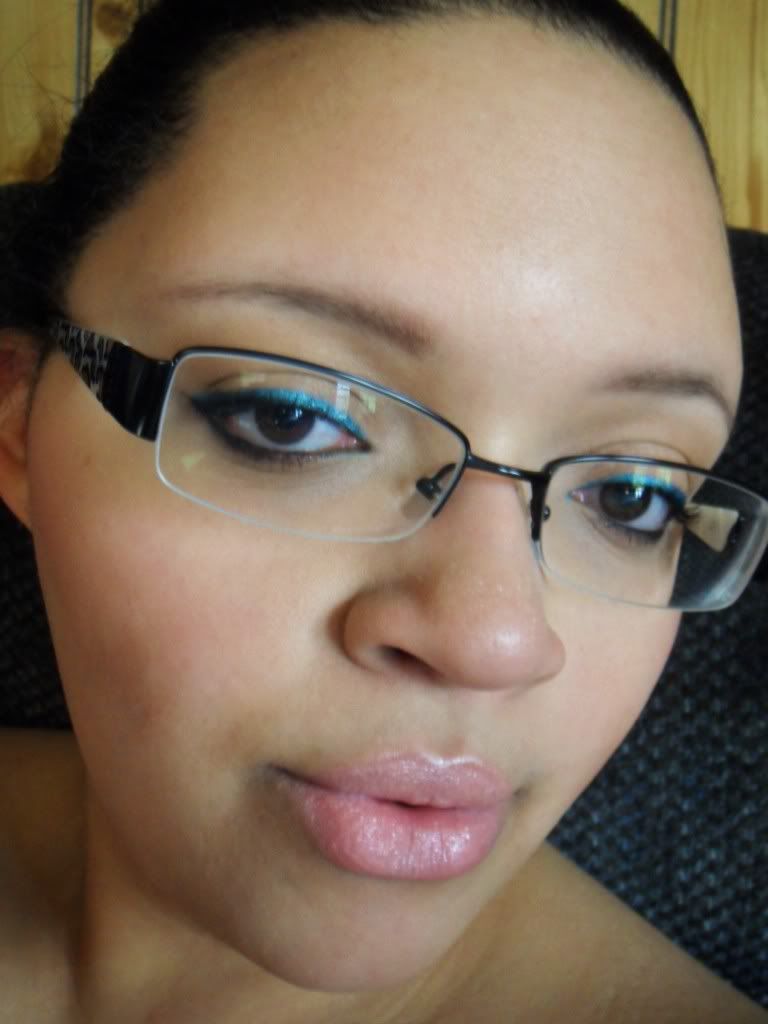 It's so easy for your eyes to get lost behind your glasses. Sometimes they just lose their sparkle when you have to wear your glasses, which is a real shame since glasses can be a great accessory. To fix this little glitch, I like to add a pop of color by using a bright liner to bring out the color of my eyes. For today I'll be using a liner some of you have been asking me a lot about - E.L.F.'s Teal Tease! I've used this before in an Urban Decay look, but that was rather unwearable and I wanted to show you a more practical way to use it. Tips and products used after the jump!
Eyes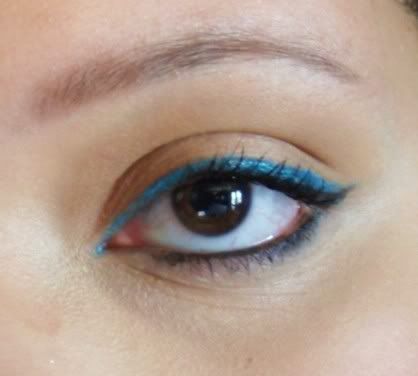 For the eyes, all I used was liner so as to keep the look low-key enough for the day time. I found it easier to start with the bottom lashline to give myself a guide for the wing of the teal. After lining the water line with a black liner, line/smudge out the bottom lashline and create a wing up from the bottom instead of the top as you normally would. Then bring the wing into the top lash line, keeping it low towards the lashes and only going in about half way. Now put a semi-thick line of the bright colored-liner of your choice on top of the black, meeting up with the wing at the outer corner.
* I chose a teal liner because teal goes really well with not only brown eyes but with my tan skin as well, but I suggest using whatever color that makes YOUR eyes pop. (Green Eyes? Try a pink, I think it's looks beautiful!)
* Make sure to get right up in between your top lashes at your tight line with the black liner so you don't have skin at the lashline peeking through in spots. If you don't want to use liner, you can use a black shadow for this as well!
Products Used
Milani Liquif-eye Liner in Black

Rimmel Sexy Curves Full Body Mascara

L'oreal Voluminous Mascara
I don't go crazy on the face nearly ever when I'm wearing glasses. I just don't like wearing them with liquid foundation. So all I do is a little powder, concealer, blush and bronzer.
* When applying blush if you're wearing glasses, try keeping the blush application only along the cheekbones, not the actual apples. You're glasses usually sit right above your apples and applying blush there can make your face a bit crowded.
Laura Geller Balance-n-Brighten in Tan

NYX Blush in Pinched

Milani Bronzing Powder in Light
I went with a slightly nude lip to keep the attention on my eyes but made it a pink nude to add a kick of color.
Revlon Colorburst Lipstick in Pink Sugar

NYX Mega Shine Lip Gloss in Sweetheart