L-R: Metal-ica, Iron Maid-in, Lead Zeppelin, Alice Copper
Metal-ica is a frosted silvery white.
Iron Maid-in is a buttery golden shimmer.
Lead Zeppelin is a mossy olive with shimmer.
Alice Copper is a pomegranate with shimmer.
L-R: Adagio, Allegro, Moderato, Presto
Adagio
is a matte cream.
Allegro
is a matte mid tone tan.
Moderato
is a matte dark greyed plum.
Presto
is a matte cool dark brown.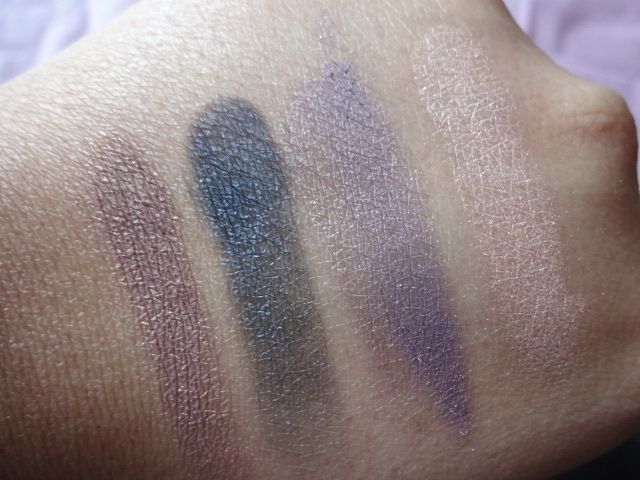 L-R: Blink 1982, The Stroke, Rem, Third Eye Blinded
Blink 1982
is a shimmery mauve.
The Stroke
is a dark blue base with intense blue shimmer.
Rem
is a lilac with shimmer.
Third Eye Blinded
is a light baby pink with shimmer.
L-R: Solid Gold Luminizer, Don't You Want Me? Blush
Solid Gold
is a frosty golden champagne highlighter.
Don't You Want Me?
is a matte peachy pink blush.
A couple notes with the luminizer and the blush. First,
Solid Gold
is
theBalm's Mary Lou-manizer
and
Don't You Want Me?
is
theBalm's Frat Boy blush
. Also, Solid Gold doesn't apply as frosty on the skin as it does in the swatch, so don't be scared!
L-R: Milly, Vanilly
Milly
is a nude rose.
Vanilly
is a bright, blue based red.
The shadows are of phenomenal quality, just as all of theBalm's shadows are. I've been using the palette nearly every morning since I bought the palette, especially Rem and Third Eye Blinded. The face powders are also just as good as their permanent line counterparts.
I can't comment on the lip/cheek creams as I haven't used them yet, but do you see how pigmented Vanilly is? Holy cow!
Bottom Line:
Amber LOVES!!!
Another score from theBalm! So far I don't think I've met a product from the brand that I didn't like.
You can find more information on this product on
theBalm's website
. It retails for $39.50, but I got it for $30 on Amazon, so you might want to check there first!