A lot of people may have been excited that Revlon is following in Urban Decay's footsteps with a "Naked" Foundation, but that's not what prompted me to purchase Revlon's Nearly Naked Foundation. What I was happy about is it seems that Revlon is finally coming out with shades that may fit my skintone. I've wanted to fall in love with many of their foundations like so many others do, but they just don't seem to like my coloring....until now, that is.
These naked generation foundations appeal to so many because we all want our cake and eat it too. We want our foundation to give us a flawless complexion but to not actually look like makeup. While that may seem like a tall order, Revlon claims we can have it all with Nearly Naked.
Packaging-wise, this is just as big a pain in the ass as Colorstay in that it doesn't have a pump. Seriously? Why are foundations still being made without pumps these days? I think I've mastered getting product out without a mess, but I always wind up with so much more product than I needed. It's so wasteful!
Moving on to a better note, I love not only the shade selection, but the way Revlon has organized it. If you go on their website, here, you can find out what shades are more likely to match you judging by your undertones and how deep or light your skin is. There is also a little pamphlet with the same shade recommendations available on the display in-store.
Based on their recommendation and my own personal estimate, I chose the shade Medium Beige. It has a yellow-peach undertone and is perfect for my winter complexion. I will probably have to go up to Warm Beige come Summer, but we'll cross that bridge when we get there. I'm just happy there are definite warm tones available, as usually with Revlon the shades are way too pink or grey for me to pull off.
The consistency is on the liquidy side, but not so much so that it drips all over your ha nd. I consider it a light coverage on my skin, as I can still see a hint of my freckles under the foundation. It is possible to build it up to a medium coverage though, although light is satisfactory for my needs.
As far as the "nakedness", I agree that it does not look like I'm wearing a foundation with Nearly Naked. It looks like my skin, just a bit more even.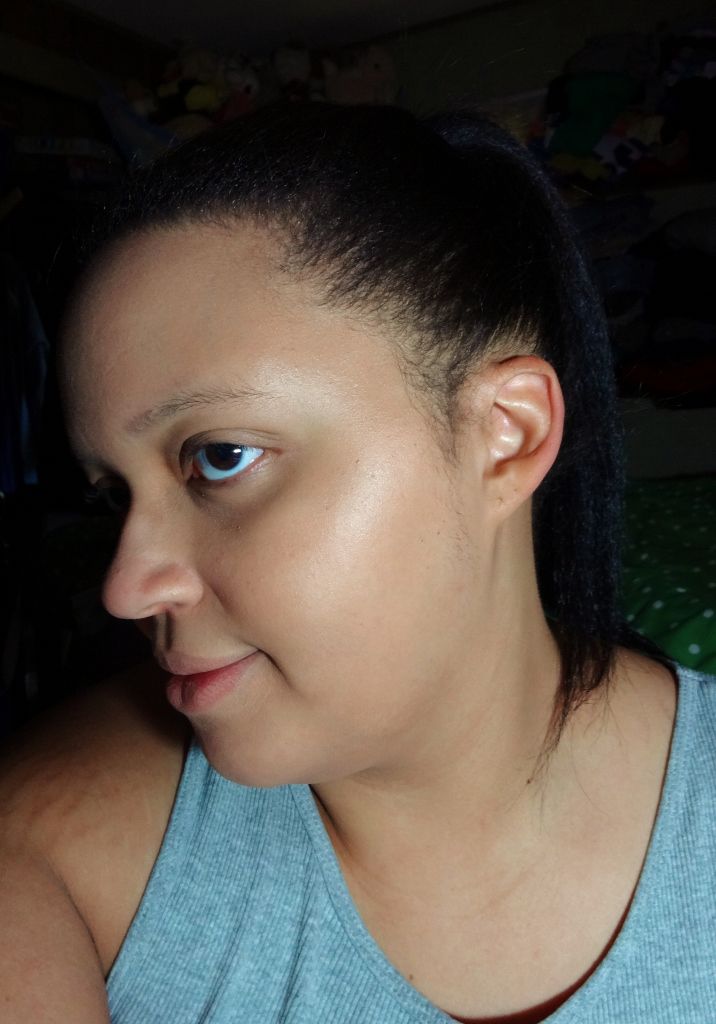 Me wearing Nearly Naked Foundation
As you can tell in the picture above where the tops of my cheekbones and temples, this has a dewy finish. I appreciate this because my skin is the depths of it's dryness right now and I could use as much luminosity as I can get. It doesn't make me look greasy or anything, but I could see how oily skins may not love this.
So leads me into my only small con: I don't think it ever truly sets on its own. I have dewy foundations that maintain their finish while completely setting, but Nearly Naked is not one of them. Like I mentioned above, it doesn't look bad at all on, but when I touch my face I can feel the foundation. Even with my dry skin, I always set this with my Sephora Microsmooth Foundation Powder. Just a little bit of powder does the job and I still have the dewiness :)
Bottom Line: Amber Really Likes!
Maybe what Revlon means by "Nearly Naked" is that while it looks undetectable, you can still feel it a little bit. Possibly? I've had worse foundations in that aspect though, so I still consider this a pretty awesome product. You just need a bit of powder, and there is a Nearly Naked powder if you're interested.
You can find more information about this foundation on Revlon's website. It retails for $10.