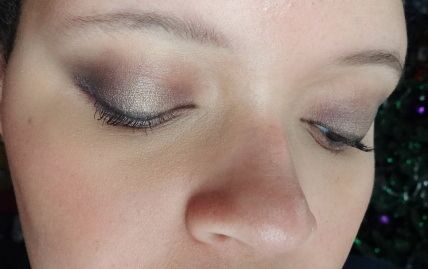 Here's the eye look I did with the shadows from the Bare Minerals Light Show Palette. You probably can't see it, but I'm wearing the bronzer and blush from that palette as well.
I took Flicker (the taupe shade) and put it all over my lid. I then blended the matte purple shade called Flash through the crease, along the bottom lash line, and in both the inner and outer corners. To deepen up the outer corner, I also pressed Dazzle (dark teal) in the outer corner. Lastly, I swiped just a bit of Spotlight, the frosty white gold, under my brow as a highlight.
I also lined my top lashline and bottom waterline with the Round the Clock liner in 10pm.