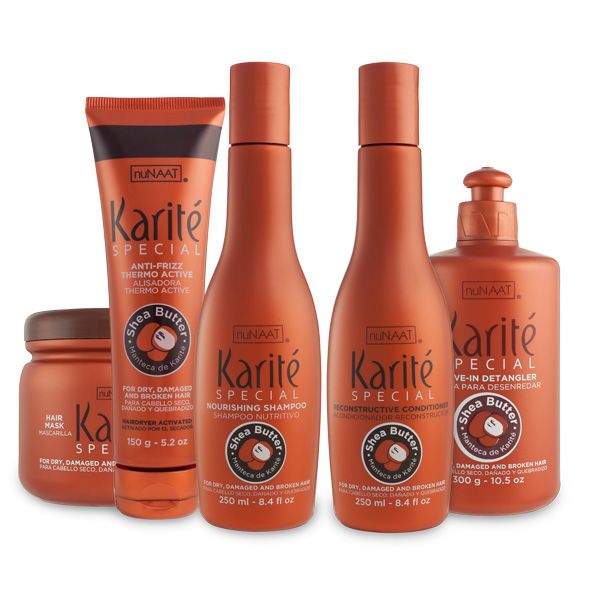 A couple months ago I was contacted by the hair care company nuNaat, offering to let me try one of their collections. I had never heard of the brand up until that point, but when I saw the brand's website and list of products I had a really hard time just picking 1 collection. My ultimate choice was the Karite Special, which was said to be great for dry, damaged, brittle, or chemically-processed hair and, well, that pretty much sums up my current hair situation. Keep reading for the reviews and giveaway!
Before starting the individual reviews, I want to tell you about my favorite part of this entire collection: the smell! It smells absolutely delicious! I could smell the scent right out of the box before I even opened any of the bottles. I immediately thought of the way my house smells when my mother is baking cakes. I mean, it legit smells like a fresh cake in the oven, I love it. So for every individual review I do for the different products here, just know that I'm crazy about the scent of all of them :)
Nourishing Shampoo & Reconstructive Conditioner
The first products I'll talk about are the shampoo and conditioner. As I've noted before, I rarely see a real difference from one shampoo to the next with my hair, and this is no exception. It cleans my hair well enough and doesn't leave my hair feeling stripped and that's all I can ask. No complaints here.
The conditioner is nice as well. I think it does leave my hair a bit stronger and I know it increases the elasticity of my hair. One weird thing though that I haven't figured out: I don't know if maybe I'm not completely washing the shampoo out or not, but the conditioner lathers a bit on my hair when I massage it into my scalp. It's happened twice now. I've rinsed my hair and reapplied to no avail. This didn't effect the performance, but I just found it a little odd.
Deep Conditioning Hair Mask
This is my absolute favorite item that I tested out! The mask left my hair feeling just plain amazing. You're supposed to apply it on freshly washed hair, but I was too lazy to wash my hair first so I applied it before shampooing and sat with it for about 45 minutes. When I rinsed it out my hair felt so silky and smooth it was unbelievable. And since I had it on for a while the cake smell lasted on my hair for a longer span of time.
Thermo Active Anti-Frizz
This pre-blow drying cream was a bit difficult compared to the other products. I'm not saying it's bad, but you really have to be cautious with how much you apply. Less is definitely more. When I use a tiny amount, my hair dries faster with the blow dryer and is left feeling soft and silky. But when I use a bit more than that my hair felt rougher and coarser. My mother has been using it as well and she said the same thing.
I can't really comment on the Anti-Frizz claim because my hair doesn't get frizzy too often. But my mom's hair does get frizzy and she seemed satisfied with the results so that's something!
Leave-In Detangler (Combing Cream)
I wasn't impressed by the combing cream, but I think it may have had the same issue as the anti-frizz cream. The only difference was that I found a way to work with the anti-frizz cream whereas I have not with the combing cream. I didn't notice my hair being too much easier to detangle after using this.
Bottom Line (for the whole collection): Amber Likes!
The hair line, as a whole, was a pleasant surprise and I'll definitely be on the lookout for this brand in stores. I'm especially interested in their Chocolat Special Collection because it sounds yummy! You can find more information on these products at the nuNaat website!
Now for the giveaway.....
nuNAAT has graciously given me the opportunity to host a giveaway for my gorgeous readers! One of you lucky beauties will win the entire Karite Special for yourself? This is the biggest giveaway I've hosted on Amber Likes Beauty yet so I'm really excited. Just fill out the Rafflecopter form before to enter! The only required entry is to 'Like' nuNAAT's facebook page. And sorry, U.S. only.
a Rafflecopter giveaway