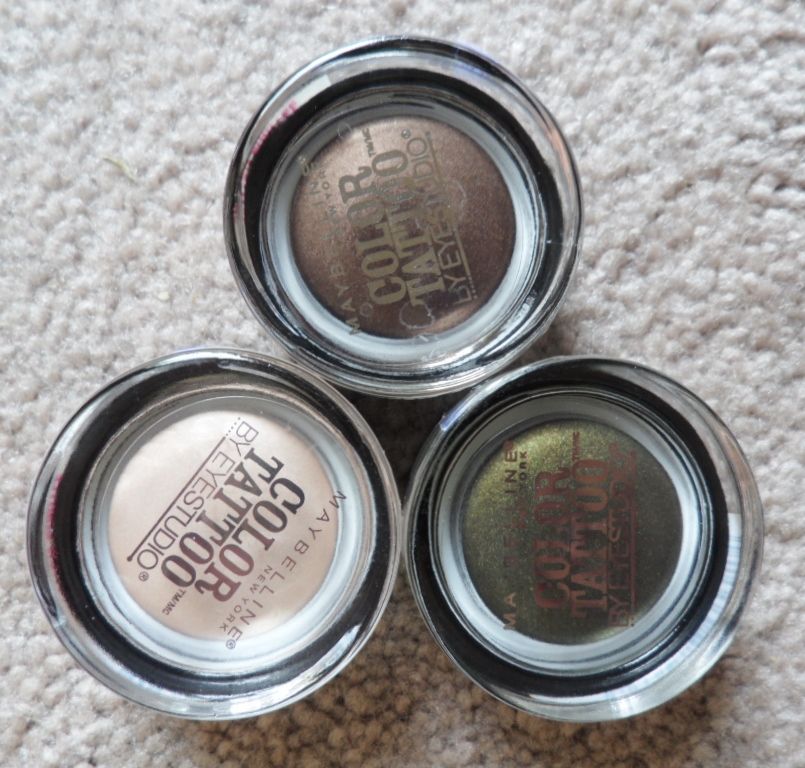 I've been waiting and praying that Maybelline would come out with more shades of their simply amazing Color Tattoos and it seems that my prayers have finally been answered. It seems that there's not only 1, but TWO limited edition sets of Color Tattoos making the rounds. In one, the one that I'm showing you today, there are 4 new neutral shades, (I only got 3). There is also 4 new jewel-toned shades that I've been searching everywhere for but to no avail. Read on for swatches!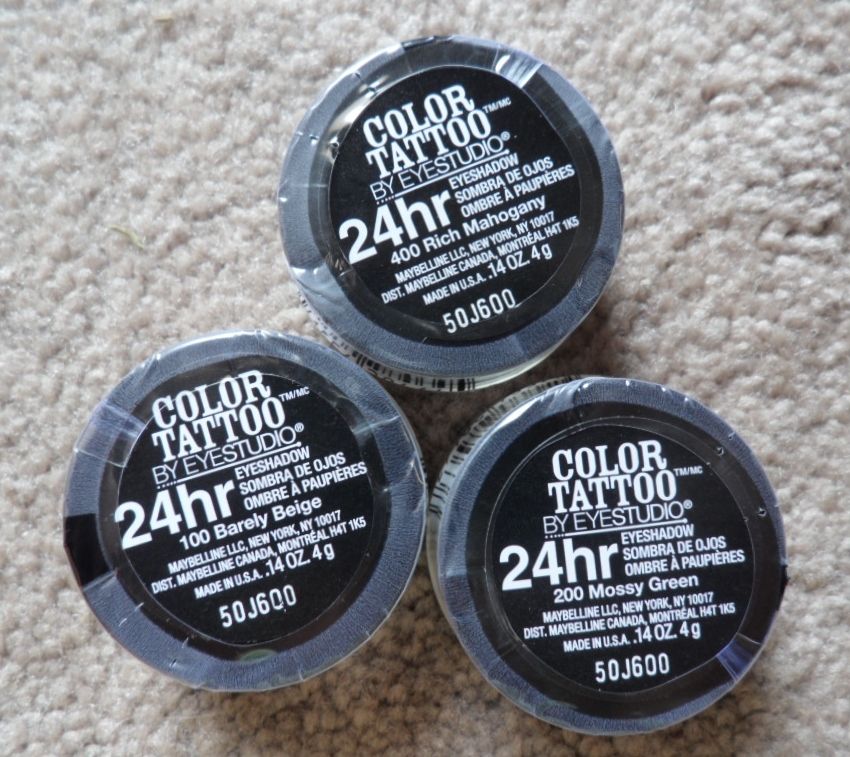 The 3 new shades I purchased from a display shelf in Ulta are Barely Beige, Mossy Green, and Rich Mahogany.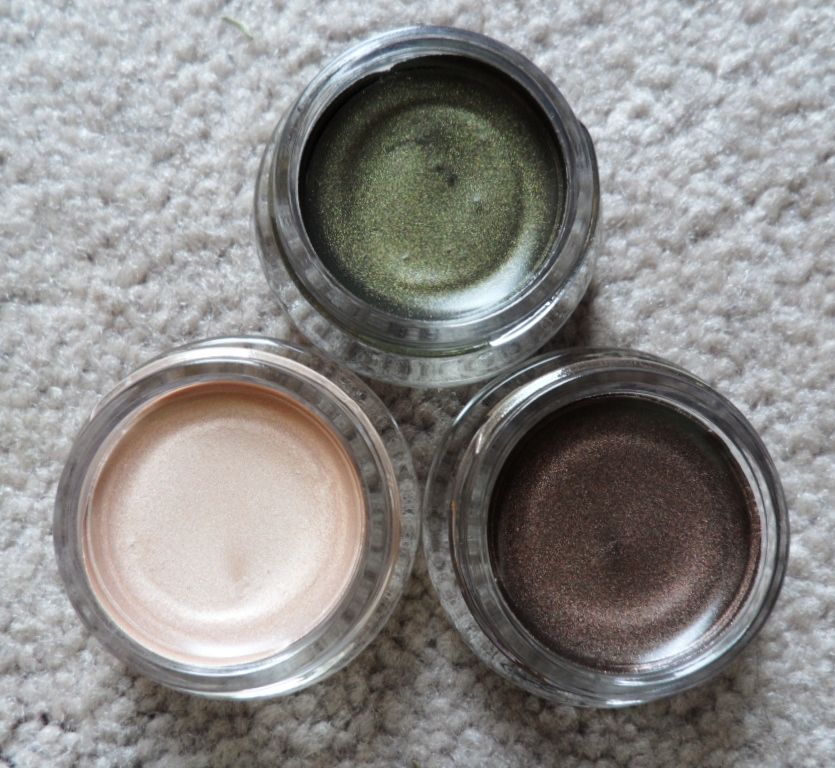 Clockwise starting at the top: Mossy Green, Rich Mahogany, Barely Beige
Barely Beige
I was extremely excited when I read a blog that said they thought Barely Beige might be a dupe for MAC's Painterly Paint Pot. Unfortunately it turns out not to be. It is a beige with a pink undertone like Painterly, but it has a frosty finish. What I wouldn't give for a matte nude cream shadow from the drugstore.....but alas. Barely Beige is a lovely shade on it's own though.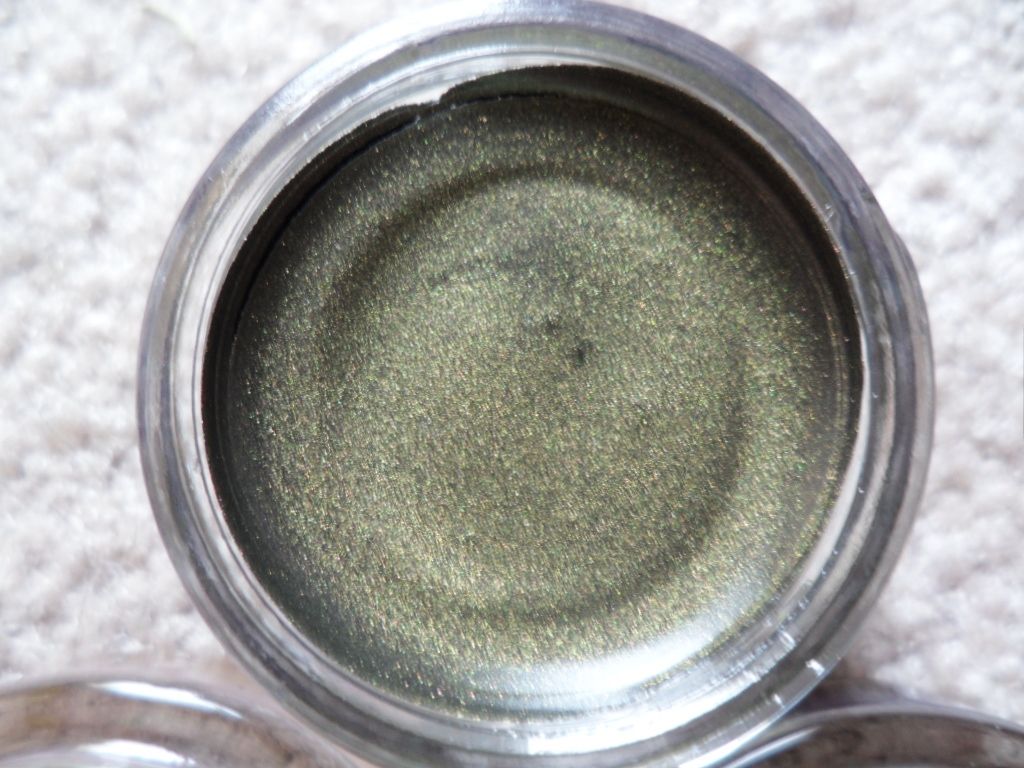 Mossy Green
Mossy Green is a dark warm green with a slight brown base and gold shimmer. It reminds me a bit of L'oreal's Infallible Eyeshadow in Golden Emerald.
Rich Mahogany
You wouldn't think it would be too hard to find an actual dark brown cream shadow, but it actually is. Most of the time the shades end up being bronzes instead of just brown. Rich Mahogany is one of the rare true browns. Its a dark, warm brown with copper shimmer.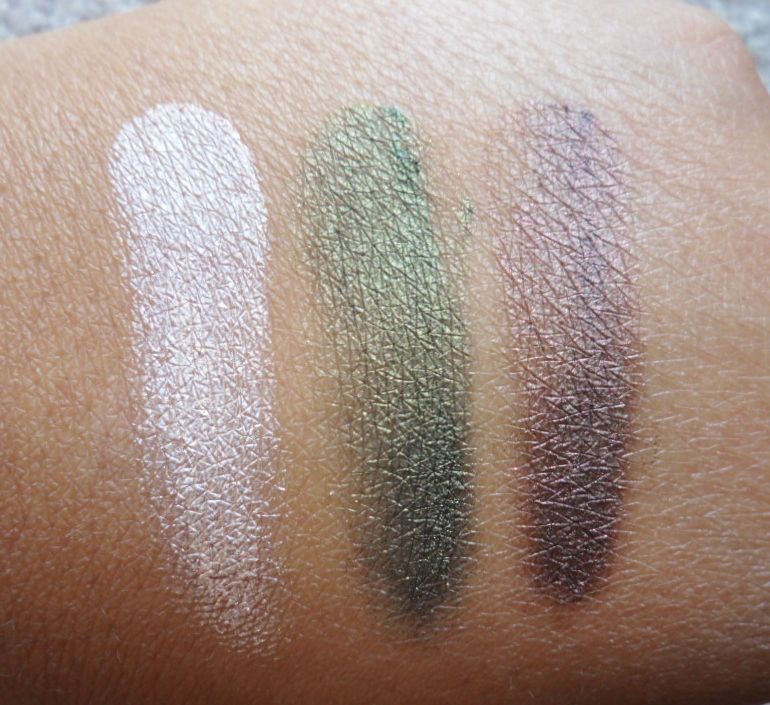 L-R: Barely Beige, Mossy Green, Rich Mahogany
For the most part, I think these new shades have the same high quality as the other, permanent, Color Tattoos. They're creamy and the color is vibrant. I did notice, however, that Mossy Green and Rich Mahogany required 2 swipes to apply the same opacity as Barely Beige. Not a big deal to me because the color can definitely be built to your preference easily, but something I feel is worth noting.
I'm so glad Maybelline has come out with more neutral shades, although I wish they were permanent. The one shade I didn't get was Gold Shimmer, which was a dark gold color that I just wasn't interested in personally. Now that I've found these, I'm definitely going to be searching even harder for the jewel-toned shades!
You can find more information about the Color Tattoos at Maybelline's website!