I've been putting this review for weeks now because, honestly, I don't think this product was made for someone like me. As a bzzagent, I was offered a chance to try out Smooth 'N Shine's new Keratin Power Hair Tamer and jumped at the chance. But actually using the product was a different story...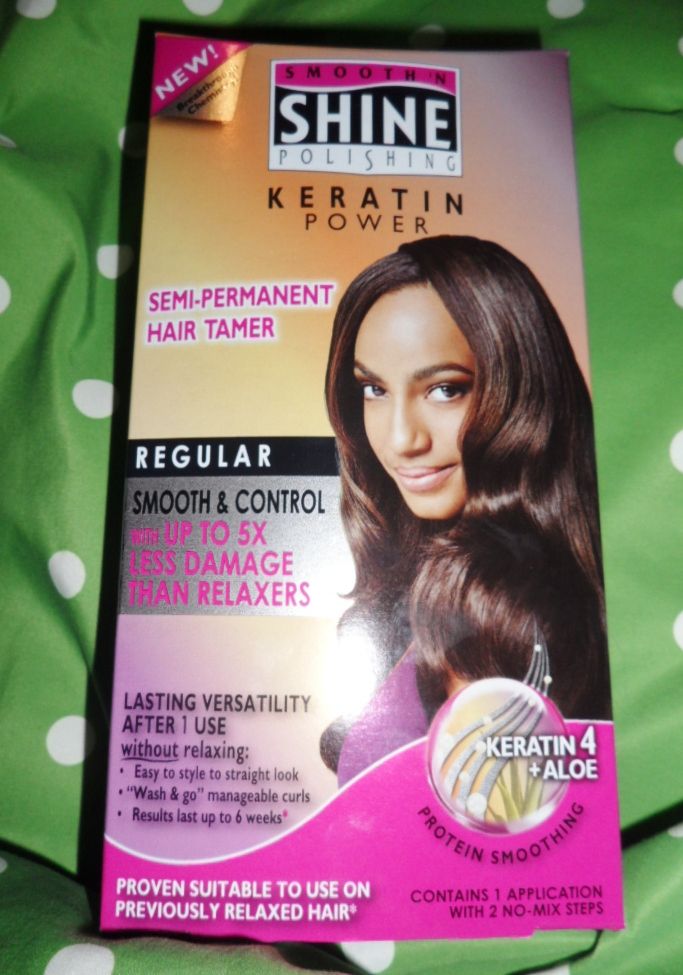 You've probably been hearing a lot of Keratin Treatments as of late. And if you're like me, you might be a bit confused as to what they actually are. And so lies my first problem with Smooth N' Shine Keratin Hair Tamer: even after reading the packagine, instructions, and bzzguide, I still have no idea what this is supposed to do. It says it's a semi-permanent hair tamer, but what exactly is it taming? From what I could come up with, I think it's supposed to tame your frizz and give you the ability to control your curls a bit more but that is a conclusion that I really had to arrive at by myself. I wish the packaging was a bit more clear on that.
Another problem I had right off the bat is that all over the box and in the directions it kept making clear that this product was NOT a relaxer. But in that same token, all over the packaging it kept comparing itself to a relaxer, saying it was less damaging, that your hair would be smoother and straighter. This really confused me, are you trying to appeal to the relaxer fans or not? I mean, they clearly were, but it seemed like they were trying to cover their ass by saying, "Hey, I'm sorry you didn't get the results you wanted but we told you we weren't a relaxer..."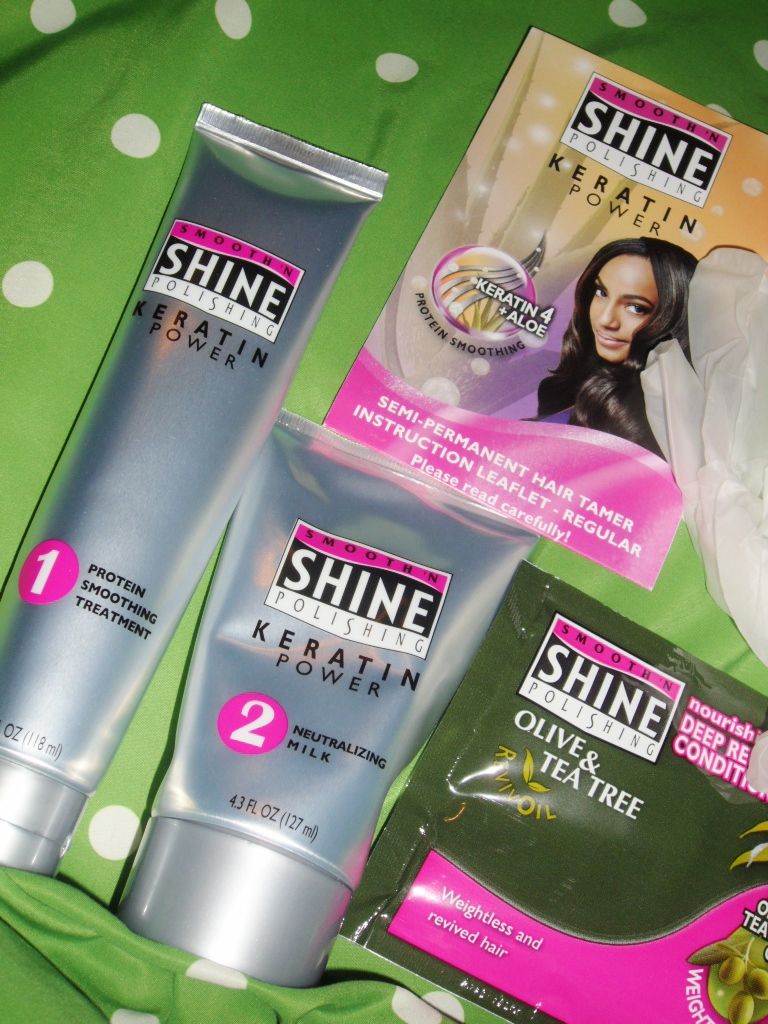 Inside the box you get the Protein Smoothing Treatment, Neutralizing Milk, instructions, protective gloves, and a generous sample of the brand's Olive & Tea Tree Conditioner. According to the instructions, the product is safe to use on previously relaxed or colored as long as these processes are done at least two weeks before or after. I do relax my hair but it had been over a month since my last relaxer so I was good to go.
The actual completing of the process here at first seems pretty simple. First you shampoo your hair, then you apply the Protein Smoothing Treatment, wash that out, apply the neutralizing milk, wash that out, blow dry, and then straighten. Applying the two products included here is just like applying a conditioner, unlike relaxer where you have to apply a base, section the hair a million times, and quickly apply the relaxer before it burns your scalp off. But the process didn't turn out to be as simple as it seems.
First off, the Protein Smoothing Treatment stinks to high heaven. It smells like sulfur, which I think smells like a cross between fermenting chemicals and rotten eggs. I've put some stinky crap in my hair, but never as bad as this. If you follow my twitter, you may remember that I was live tweeting about this as my family was trying to banish me to my bedroom because I was stinking the house up so bad. The worst part is that you have to sit with this on your head for like 20 minutes. Which brings me to my next complaint....
While the actual steps are easy, the whole process takes forever. Don't start doing this kit if you don't have 2 1/2 hours at the very least. It really took me more than that though.
Worst of all, I don't notice a bit of difference with my hair. My goal was to maybe use this as a way to extend the period of time between my relaxers, but this definitely didn't make my hair any straighter or easier to straighten. As far as the frizz department goes, my hair doesn't really get frizzy so I couldn't test that out.
Bottom Line: Amber Hates...for me, that is
I don't feel comfortable outright telling you guys to not buy this, as much as I never want to try this again on my hair. I really couldn't test it out for the supposed "wash-n-go" curls that this promises to give you since my hair is relaxed, nor could I test it out for frizz purposes. I'd say, if you have relaxed hair, no frizz and it's pretty much bone straight like mine, don't bother, but if you are looking for something to tame your hair in I can't rightly say yay or nay.
One thing that I am able praise is the included conditioner packet. The instructions don't say that you have to use it, but I'm telling you that you really should in the very least just to neutralize the stink from the Treatment. It's a great conditioner on it's own though, as its pretty thick going on but rinses out leaving your hair very lightweight. And it smells minty :)