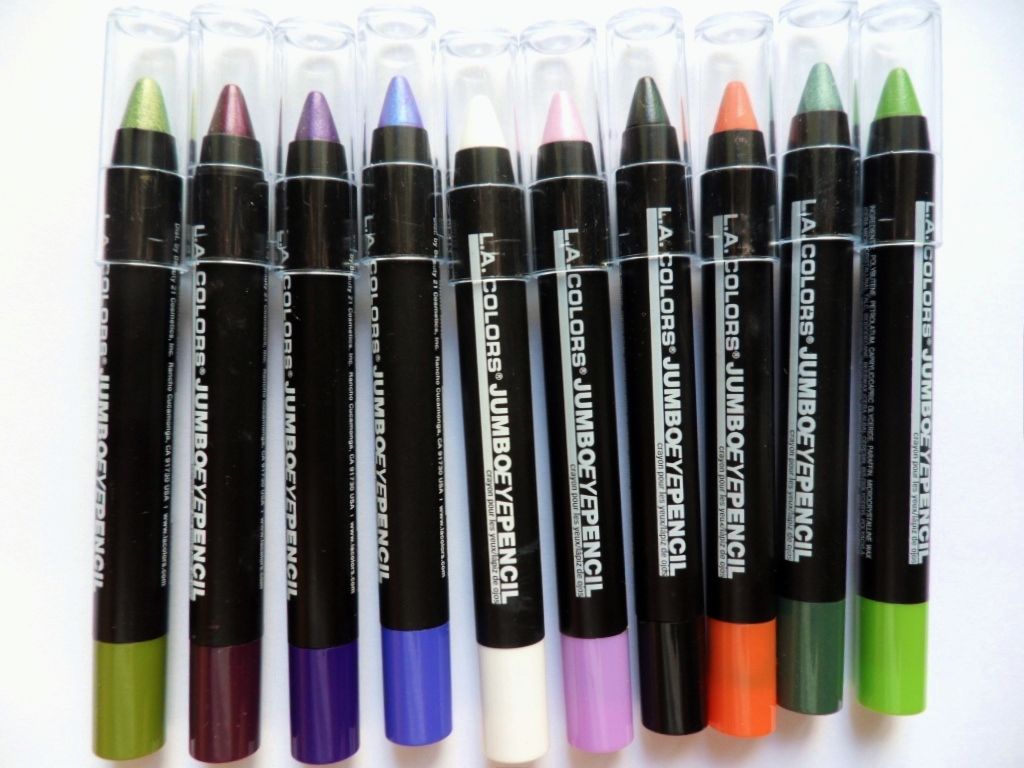 I have a strange desire to have a corresponding cream shadow to every regular powder shadow I own. I just like to get the most color out of my shadows I guess. But with the price of typical cream shadows and jumbo pencils reaching up to over $20 each, that's not a feat I foresee accomplishing any time soon. NYX provides a more affordable option at $4 but even that will start to add up quickly. So it is with pleasure that I present to you these LA Colors Jumbo Pencils that I got for $1.75 each! Such a great deal!
LA Colors Jumbo Pencils come in 24 shades, not as many as NYX but still a solid number on it's own. They have most shimmer, metallic shades but do have a handful of mattes.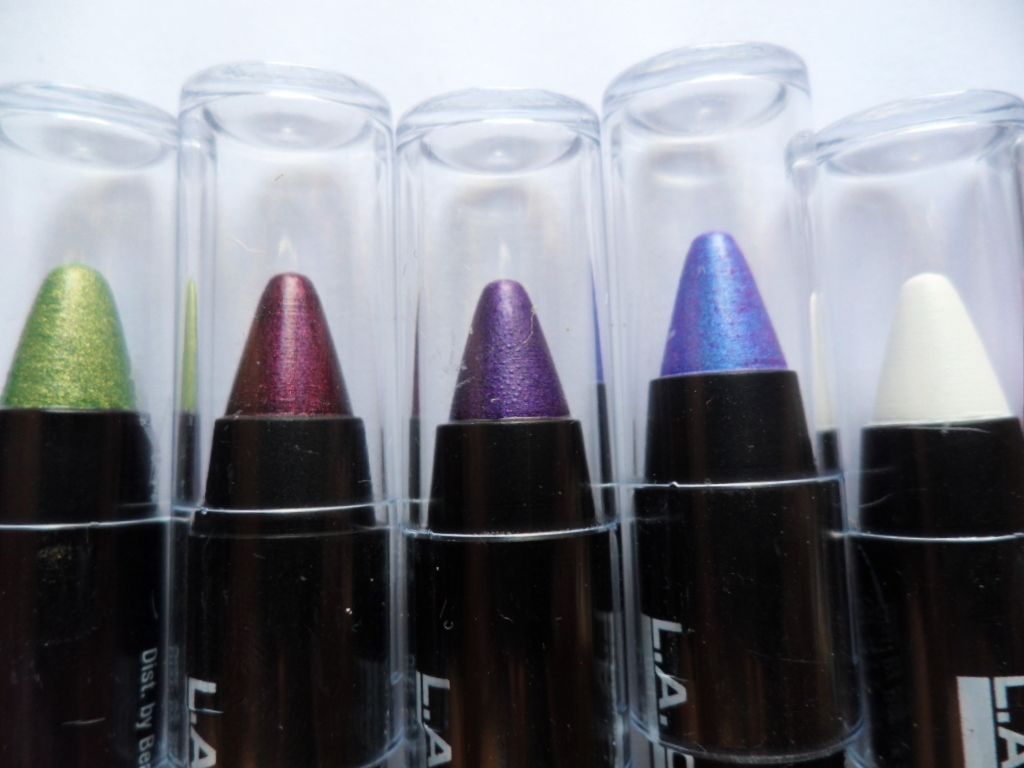 L-R: Summer Time, Vacation, Tropical Bliss, Bikini Time, Sea Shells
Summer Time

is frosty lime green with a golden sheen.

Vacation

is an utterly beautiful deep burgundy with silver glitter.

Tropical Bliss

is a slightly metallic dark blue-based purple.

Bikini Time

is one of my favorite type of shades, a light purple with a blue flash.

Seashells

is a matte white.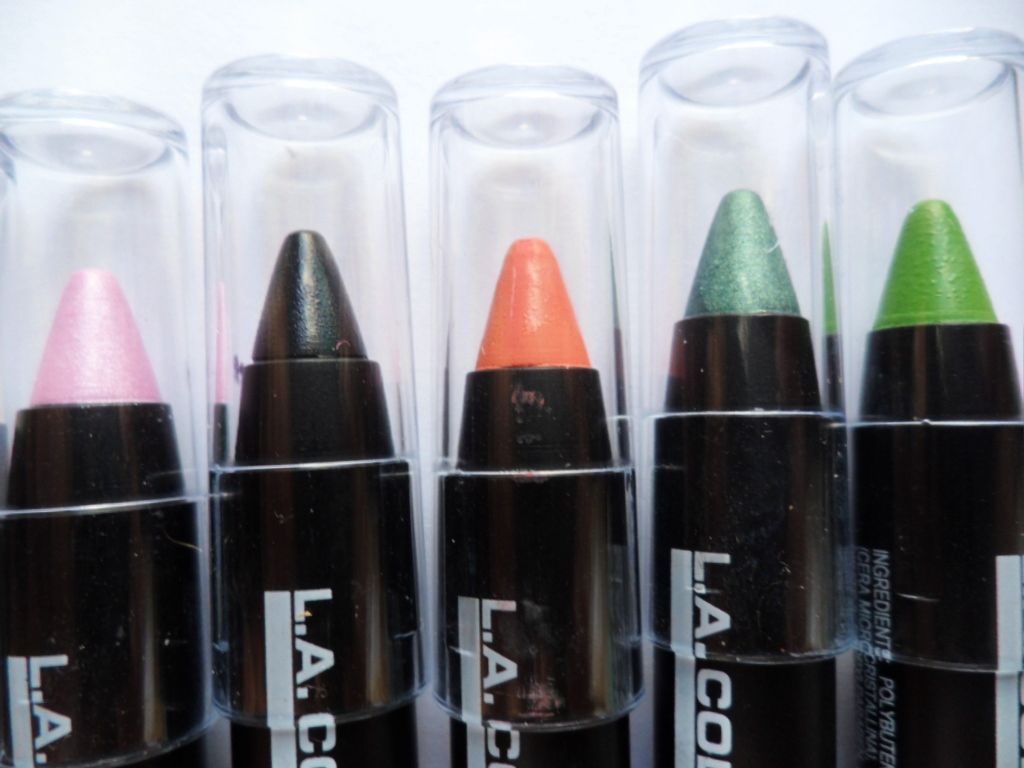 L-R: Pretty in Pink, Sunglasses, Popsicle, Beach Resort, Limeade
I thought

Pretty in Pink

was going to be a matte light pink, but I think it may have a slight frost to it. I'm not sure. Sunglasses is a matte black.

Popsicle

is a matte orangey coral.

Beach Resort

is a frosty teal-green.

Limeade

is a matte lime green.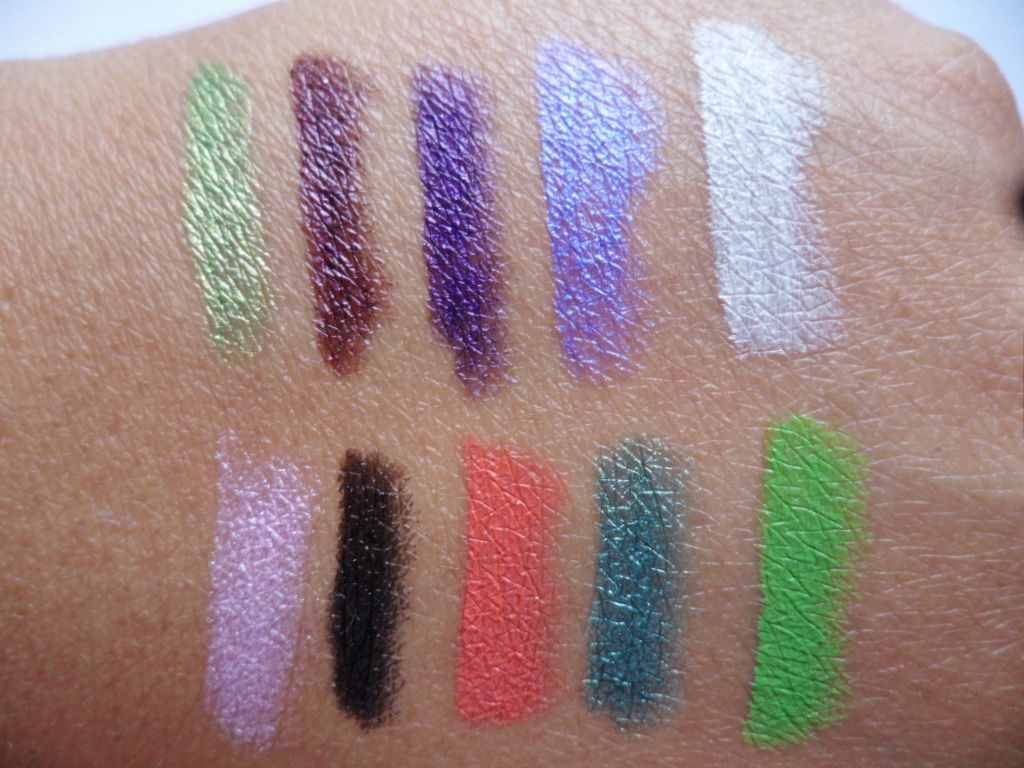 Top L-R: Summer Time, Vacation, Tropical Bliss, Bikini Time, Sea Shells
Bottom L-R: Pretty in Pink, Sunglasses, Popsicle, Beach Resort, Limeade
Pigmentation is absolutely not a problem with these. One solid swipe will give you ultimate payoff!
These pencils are all very soft and creamy. I say this as a pro but it can also present a con. I find that really creamy cream shadows can some times crease and fade easily.
I did test these out, once using primer underneath the pencil and nothing on top, and then another time using a shadow on top of the pencil but nothing underneath. I found that with either technique I did not experience creasing, though very few (actually only 1) products have ever creased on me. I did, however, see that the product with only a primer underneath lost much of it's intensity while the vibrancy of the pencil with shadow on top was well maintained throughout the day.
Bottom Line: Amber Really Likes!!
I really recommend these as bases for your shadows. I don't see these working well on their own, but setting them with some shadow or powder you should be good to go. Obviously much of my favor stems from their low price point. Even though the normal retail is $1.75, I also had a 20% coupon code from CherryCulture.com so they were even cheaper!
A comparison between Sea Shells and NYX's Milk is soon to come!
*Side Note* I read somewhere that NYX and LA Colors were sister companies, hence the similar jumbo pencils. Can anyone confirm?