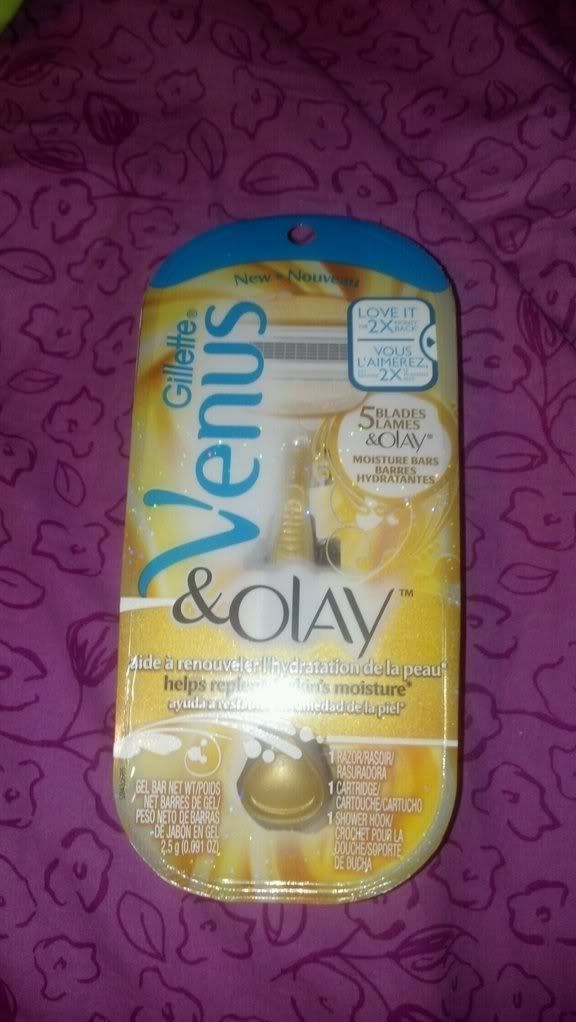 My usual M.O. when it comes to any beauty, bath, body, or hair care product is to always experiment. There are very few, and I mean next to none, products that I've stuck with repeatedly since the day I first use them or that I've repurchased more than 1 or 2 times. The first product, or should I say brand, that breaks that habit for me is Venus Gillette Razors. I've used these razors for well over a decade now and have always been happy with them. So it is with pleasure that I talk about the newest addition to the Venus Gillette Razor family: the Venus & Olay Razor!
When I this included in my Influenster Love VoxBox I was beside myself. I've been stuck on Venus Embrace for the longest time and while I've loved it I was more than happy to try a new razor from the brand. Aside from my curiosity about the new product and it's collaboration with Olay, I'm ashamed to say that I couldn't remember the last time I shaved my legs as I don't shave much during the winter. I'm not much of a skirt/dress kind of girl, so there was never any need to, in addition to me just being plain out lazy. So to say that a plain old razor wasn't going to be enough is quite an understatement; I was going to need something special. I did have my reservations with this guy however.
What's special about this razor aside from it's 5 blades is that it contains 2 Olay moisture bars. This means that in theory you shouldn't have to apply any soap or shaving lotion prior to shaving. I've used razors in the past with this structure and the problem I kept encountering, without fail, was that the moisture bars would kind of get in the way of the actual shaving. They would keep the blades from getting as close to my skin as they needed to, so the hair wouldn't be removed all the way. I feared that this would be the case here also.
I'm glad to say though that this was not a problem at all with Venus & Olay. I got the awesome hair removal results that I got with Venus Embrace and its 5 blades but with the added moisture. It was quite nice not having to take the extra step to slather on lotion or soap before shaving since the moisture bars did the job as I shaved.
Bottom Line: Amber LOVES!!!!!

<3<3<3<3<3
I really have not one bad thing to say about this product. Well, maybe that the price isn't too pretty. Packages of 3 replacement heads will put you out at around $15-$20. So not any more than the rest of the Venus Gillete razor line, but still not too pretty. I will say though the results I've experienced with other brands of razors don't compare to me with what I get from Gillette, so much so that I'm willing to pay the price. And since this particular razor includes the moisture bars, you won't have to spend money on a separate shave cream/lotion :)
You can find more information about the Venus & Olay Razor at www.gillettevenus.com
Disclaimer: I received this product complimentary from Influenster. I received no compensation for my review nor was I required to do a review at all. As always, all personal views and experiences expressed are my honest opinions and in no way influenced by any other party or circumstance.