Doesn't the packaging of Maybelline's Lots of Lashes Mascara just scream "fun"? I would've have loved this stuff in high school, it's just so darn cute. From the iconic & classic pink & green of all Maybelline Great Lash mascaras to the hearts and the LOL reference....I just can't handle it! But as a beauty blogger I soon had to get over all that to actually review the product which was really hard to do, but I did it. And I have to say, for me the best use I can get out of this is a nice purse accessory. It's by far not the worst mascara, but it's definitely not my favorite although I can definitely see some people digging this. Find out if it might be for you after the jump!
Upon first impressions, the coolest aspect of this mascara, and what sets it apart from the rest of the Great Lash line, is the brush head. It's cone-shaped, similar in looks to Lancome Doll Lashes. I believe that the shape is supposed to help give you those flared lashes on your outer corners. It's also sporting plastic bristles rather than the traditional natural ones which is a plus for me.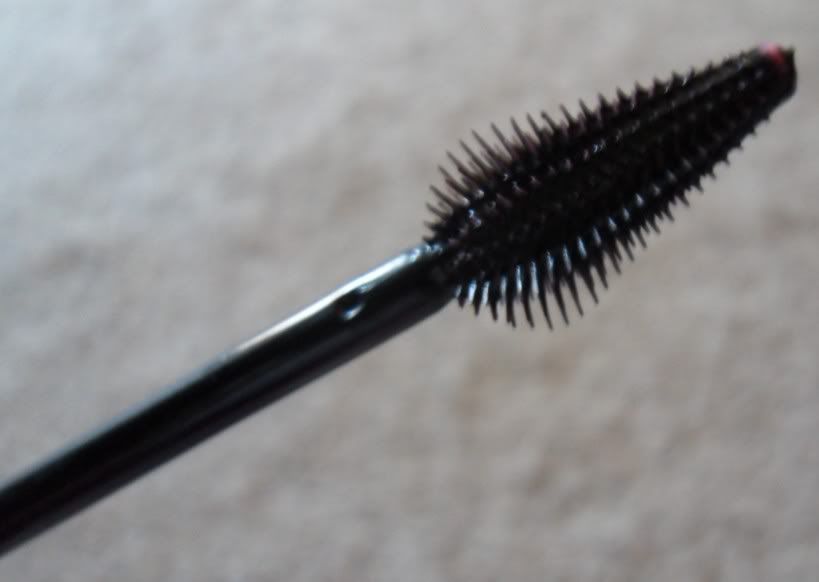 Looking at the wand before dipping it into the mascara I noticed a kind of cap on the very tip of the brush and I though that was odd at first. However, after putting in the tube and pulling it out I saw that the little cap actually helped minimize the amount of what B from Clumps of Mascara calls mascara poop. You know, that gunk that comes out with the wand that you have to wipe off so you don't get globs of mascara on you lashes and lids? Something about that cap thing keeps that at bay for the most part. MAJOR plus for me! You can also see that the tube cleans off a lot of the excess mascara off the whole head which is also a plus in my book.
But enough with the packaging, let's get to the results!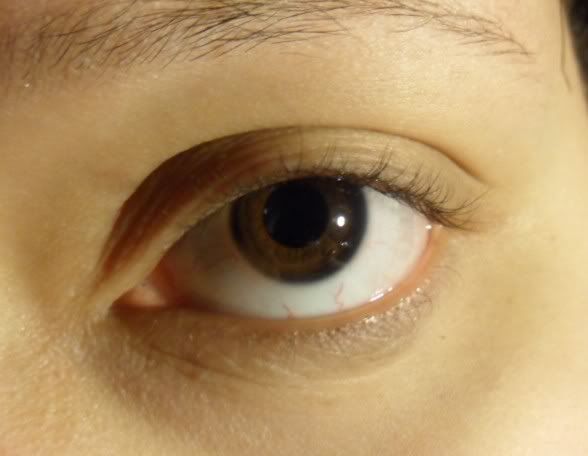 Bare Lashes
1 coat
Not too bad with the first coat. You get a reasonable amount of volume and a bit of length with no real clumping.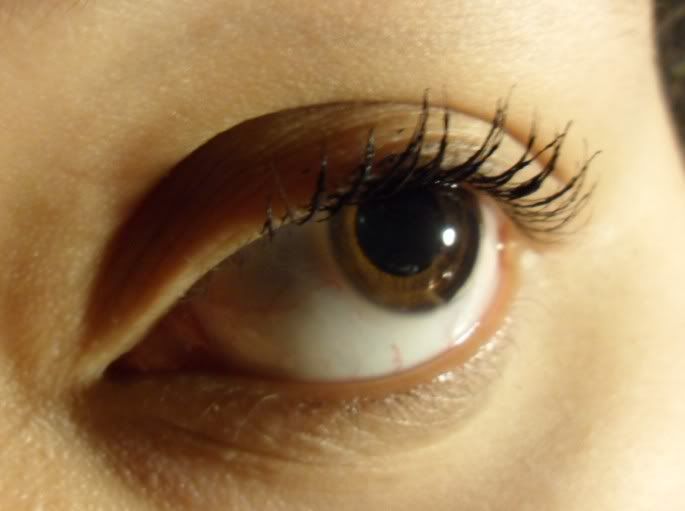 2 coats
It's past 1 coats that I wasn't LOL'ing anymore. I really prefer a a more defined volume and this just clumped my lashes into jagged spider legs. A tip I would give if you decide to pursue this is to work quickly in adding additional coats, it dries pretty fast.
But the real issue I had was that I couldn't take advantage of the shape of the brush on my left eye. This is probably hard to explain, but since I'm right-handed, I don't twist my right hand around to apply mascara on my left eye nor do I switch to my left hand (what a mess that would be!) Instead I go in from the right of my face, across my nose and apply mascara on my left eye that way. In doing this though, I can't get the flared effect on that eye, since the larger part of the brush hits my inner corner rather than the outer. If you apply your brush by twisting your dominant hand around or you're ambidextrous, this may not be a problem for you.
Another problem I encountered was that the brush head is not spherical around its base. It's more of a paddle shape with 2 sides having longer bristles and 2 sides with shorter bristles. When applying mascara to my lashes, I like to kind of spin the brush to really comb through my lashes and the paddles shape makes it difficult to do that.
Bottom Line: Amber....would take this back if she could :(
Maybelline LOL mascara will give you a decent amount of volume and length, but depending on how you like to apply your mascara you may or may not experience any doll-like flaring to your lashes. I think this is a product that you have to work with rather than it working with you. So if you don't mind putting in some extra work this might be the guy for you. It's also extremely budget-friendly. I'm pretty sure I didn't put out more than a 5 dollar bill for this at Walmart :)