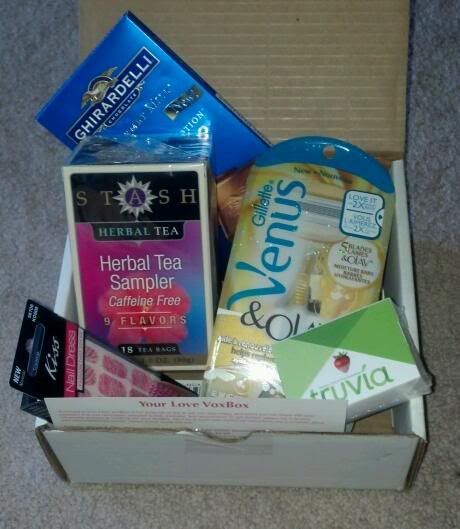 I'm beyond excited to find out what I got in my first Influenster Box! I signed up for the Influenster program a few months ago and was really happy to see I'd been chosen for the Love VoxBox promotion. However, I was a little worried there wouldn't be much in there that I'd have a lot of use for since I'm currently single and it seemed to be geared towards Valentine's Day stuff...but boy was I wrong! Here's what I got:
Gillette Venus & Olay Razor

Kiss Nail Dress - Fashion That Sticks

Stash Tea Herbal Tea Sampler

Ghirardelli Gourmet Milk Creamy Devotion Bar

Truvia Natural Sweetener
I can't wait to try all these things, especially the Kiss Nail Dress and the Truvia Sweetener. I've been a longtime love affair with all Gilette Razors so I already know that one's gonna be awesome! As always, I'll keep you posted on how these products turn out and expect reviews soon!
And for those of you unfamiliar with Influenster, more information about the program and how you can join can be found here.