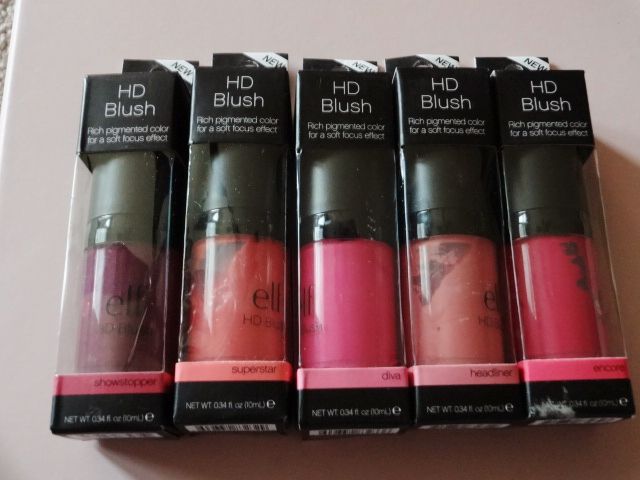 E.L.F.'s Studio HD Blush is probably my favorite release from the brand. I'm not speaking on the actual product, just the unexpectedness of it. Who would've anticipated a brand like E.L.F. coming out with a product like this? So it was a no brainer that I would have to buy each shade available....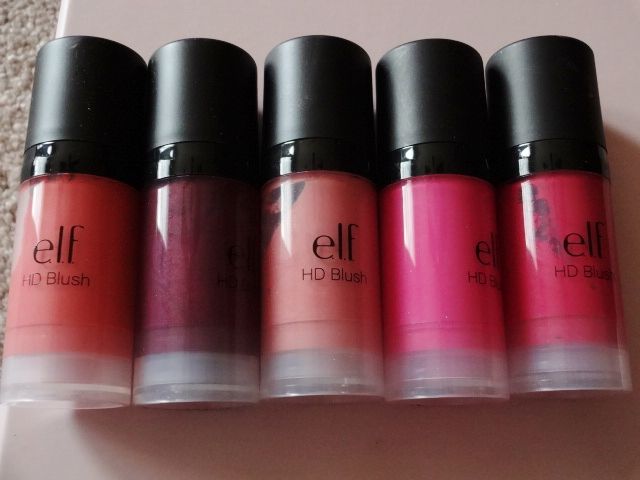 L-R: Superstar, Showstopper, Headliner, Diva, Encore
If these blushes look familiar, it's because they are. Make Up For Ever has had blushes like these for a while now. The difference? MUFE charges over 8 TIMES more for their product. That's not to say they aren't worth that because I don't know as I don't own the MUFE ones. But E.L.F. does seem to have the more affordable option.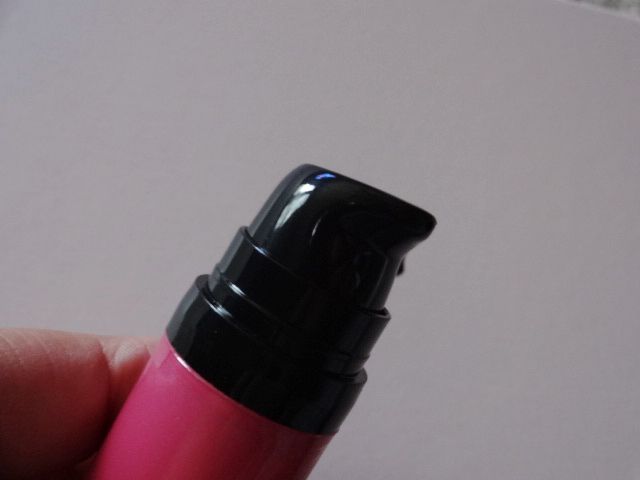 This is a cream blush that comes with a pump to dispense the product. I've heard some complaints that the pump from E.L.F. pumps out too much and is hard to control, but I've actually found the opposite. On all 5 bottles of mine, I find it easy to pump out as little or as much as I want.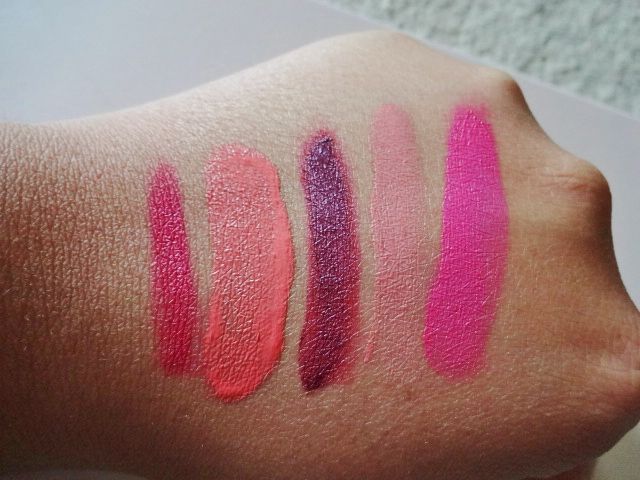 L-R: Encore, Superstar, Showstopper, Headliner, Diva
Encore is a strawberry red-pink. Superstar is a melon peachy pink. Showstopper is a deep wine. Headliner is a nude pink. Diva is a hot blue-based pink.
Each swatch above is no more than a half of a pump. These are EXTREMELY pigmented! Dare I say....too pigmented? Let's face it, usually we'd rather something be more pigmented than sheer, since you can always sheer something out, but these blushes have the most opacity I've ever seen. That makes it far too easy to apply too much. You absolutely must have your used foundation brush on hand to pull down and blend out the intensity with these guys.
Which leads me to my only con: application. I've had these for a while now, but the reason I haven't brought this review earlier is because it took me a long while to figure out how to best apply them. With cream blushes, I typically use a stippling brush, but that is an absolute no-go with the HD blushes. With the combined pigmentation and very liquid nature of the product, stippling merely stains your cheeks with dozens of non-blendable dots.
Next, I tried using my fingers, which was better than stippling but still not what acceptable for a public outing. Using the fingers in a tapping motion gives a finish reminicent of a stippling brush, except instead of small dots I ended up with larger finger-sized spots.
I then used the fingers in a more swiping motion, which was once again better than the last method, but didn't give me the precision I needed. It left a larger portion of my cheek blushing than I preferred.
Finally, the method I found best was using a dense kabuki-style brush to apply. My favorite is the Sigma Angled Kabuki. I tap the brush into the product very carefully, then I tap the excess off onto a clean spot on the back of hand, and then I go right into buffing the product along my cheekbones. I do it with the smallest amount of product at a time and build until I'm satisfied.
As far as performance, I find that this lasts all day, even when I'm sweating . When I tried to remove the swatches off my hand, it took some extreme (and a bit painful) scrubbing. I don't have to scrub too hard on the face as I use such a minuscule amount though.
It gives such a natural, lit-from-within finish if you apply it carefully. So far, my favorite is Headliner, since it's such an easy and natural color to pull off.
Bottom Line: Amber Adores the Quality, but Application is a bit of a chore...
If application wasn't so complex, this would have definitely been a Love, but this product is too high maintenanced to use if you're running late. I apply this for special occasions, when I have plenty of time to focus on every detail of my makeup. I still highly recommend these for checking out.
You can find more information about this product on the E.L.F. website. It retails for $3!