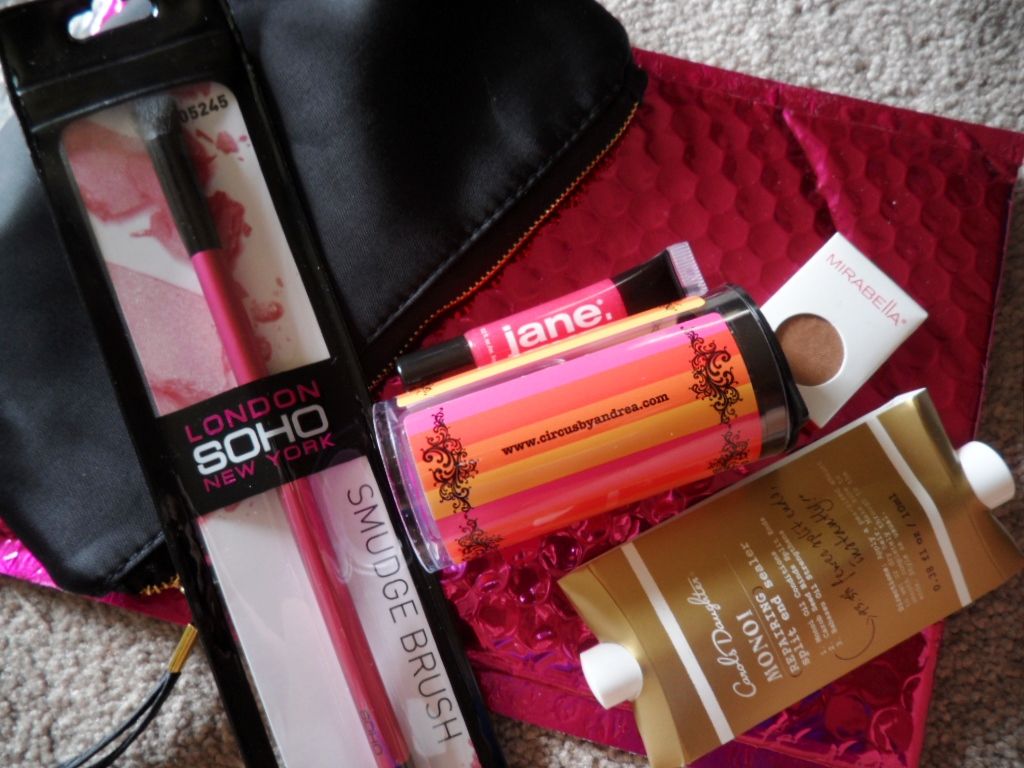 Right before I received my Glam bag for this month, I got email saying MyGlam was changing their name to Ipsy. I'm not sure why this is, but according to the message you're still getting the same awesome service just with a different name. And judging by my bag, I'd have to agree....
Included in my September 2012 bag is:
Soho Smudge Brush
Circus Polish by Andrea's Choice in Tightrope
Carol's Daughter Monoi Repairing Split End Sealer
Jane Sparkle Gloss
Mirabella Eyeshadow
$20 off Coupon for JustFab.com
I like this month's bag so much better than last months Glam bag. I also like this better than the Birchboxes I've been receiving lately. I wasn't so sure about my Glam Bag based on last month's but I'm definitely sold on this one.
There's not one sample that I'm not really excited to try. The brush, although larger than what I'm used to with traditional smudge brushes, is very soft and I'm excited to try it. I really liked the quality of the included Circus polish from last month so I'm sure Tightrope will be fantastic as well. I swatched the Mirabella shadow and the pigmentation is great along with the texture being nice and smooth. And lastly, Jane cosmetics has made a huge overhaul on their products recently so I'm interested to see how this gloss turns out.
I only have 2 minor complaints though. One, I don't like the actual makeup bag everything came in. It's made of that kind of material that makes that horrid sound if you accidentally scratch it. Every time I hear it my skin crawls. Second, although I like the actual polish, this is the 3rd bag in a row they've included this brand of polish. Thankfully shades aren't being repeated, but I'd still like to try out different brands....
Bottom Line: Amber Really Likes!!!!!!
This is a great bag and should be the type of bag that you get every month from a beauty subscription service. Being that I signed up for a beauty sample service, I expect some actual makeup products. Lately I've been getting mostly skincare and hair stuff, which is ok, but I want some cosmetics. Ipsy/Glam definitely delivered on that this month :)
You can find more information on Ipsy and subscribe at Ipsy's website.