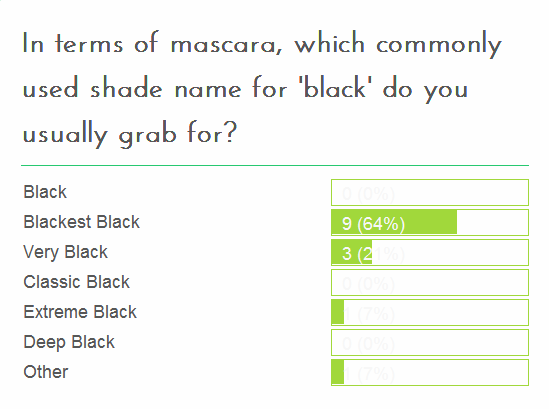 A couple weeks ago I asked about your preference when it comes to black mascara, being that there seems to be so many different names for a color that in actuality isn't supposed to have variations. Well, the people have spoken and the overwhelming favorite was....drum roll...........
BLACKEST BLACK
This was my pick too. If I'm looking for a Black mascara I damn sure want the darkest available and, in terms of grammer, I figure that will be Blackest Black. Although I'm still wondering about Extreme Black...
If you chose another option besides Blackest Black, please feel free to talk about your pick in the comment section!
Thanks to everyone who participated in my first poll, by the way. It was fun as I love getting feedback from your guys and I'm definitely going to make it a regular thing!