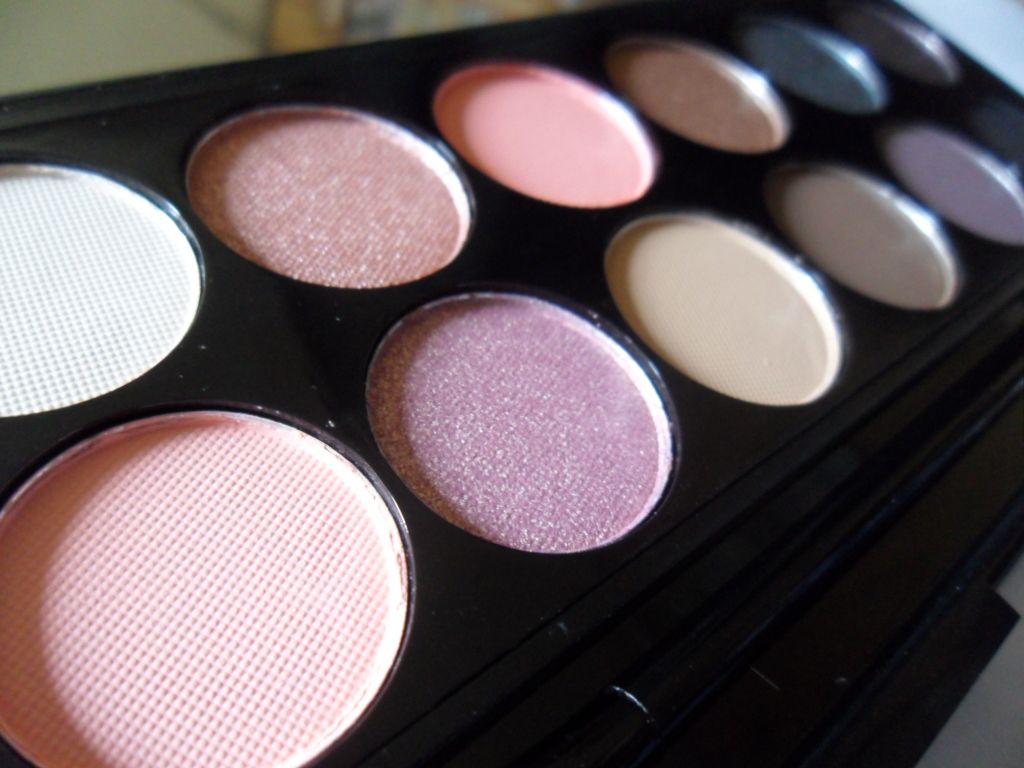 I've had this palette for a while, as evidenced by its presence on my March favorites & Cherry Blossom FOTD, and had meant to review this right after the Me, Myself & Eye Palette. But, long story short, the palette I received had a wrong shade included so I've been waiting for Sleek to send me a new so I could represent the palette here as accurately as possible. So finally I can share the Oh So Special Palette with you, a product that I've been using nearly every day since I got it!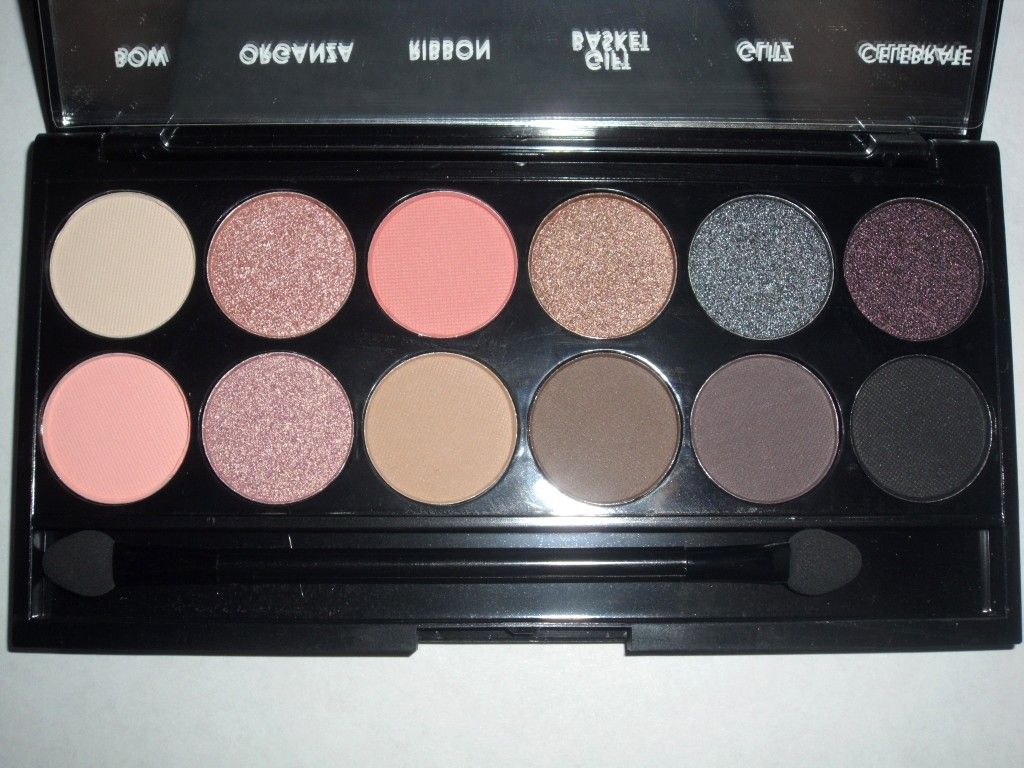 Top Row L-R: Bow, Organza, Ribbon, Gift Basket, Glitz, Celebrate
Bottom Row L-R: Pamper, Gateau, The Mail, Box, Wrapped up, Noir
The Sleek Oh So Special Palette is a girl's dream. I couldn't ask for a better variety of colors in a 12-color palette. As mentioned in the intro, I've found myself using this every single time I apply makeup. Whether it's a full eye look with just the shades in this palette or just using a shade or two in conjunction with other shadows, ever since this fellow joined my collection my Naked palette has been collecting dust :-P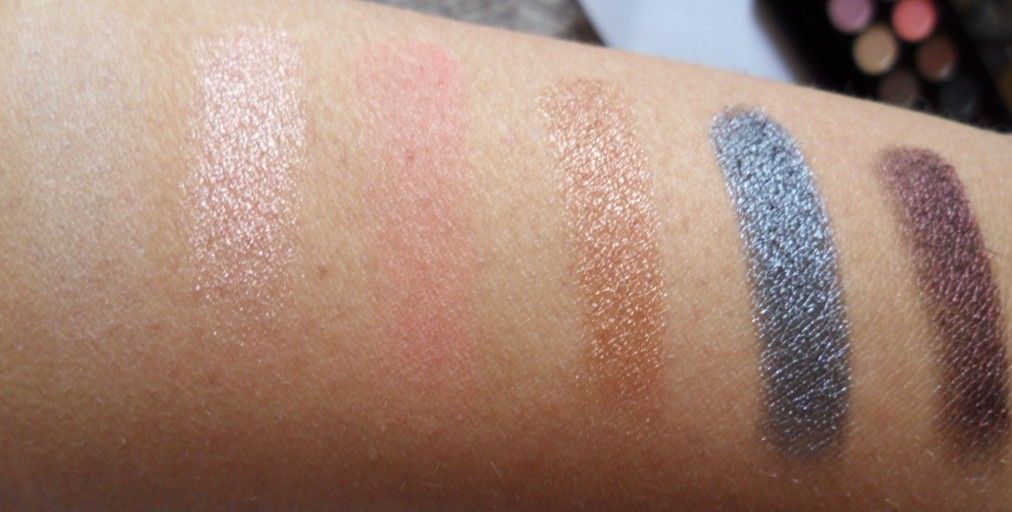 Top Row Swatches L-R: Bow, Organza, Ribbon
Gift Basket, Glitz, Celebrate
Bow is a matte cream. Organza is a beautiful peachy, pink shade with gold shimmer (NARS orgasm blush, anyone?). Ribbon is a matte warm peachy pink. Gift Basket is a shimmering bronze that really does remind me of those Easter baskets that have that faux metallic look to them. Glitz is a gunmetal shimmer, an exact dupe of UD Gunmetal. Ribbon is a plum-black base with plum shimmer.
Bottom Row Swatches L-R: Pamper, Gateau, The Mail,
Box, Wrapped Up, Noir
Pamper is a matte pale peachy pink, kind of chalky. Gateau is a violet-pink with gold shimmer. The Mail is a matte light brown. Box is a matte dark brown. Wrapped Up is a matte dark plum. Noir is a deep matte black.
Hopefully you can tell just by the swatches why this has been getting a lot of use from me. The last 4 shades in the bottom row (The Mail, Box, Wrapped Up, & Noir) and Bow are essential shades for any look you might feel so inclined to make. The Mail and Box are also good brow shades for some. I also use The Mail as a transition color. This palette is a very rare instance where there are actually more mattes in a drugstore palette than shimmers, which I love.
Then there's Organza and Gateau, which the swatches above do not give a bit of justice. I have nothing like either of these colors in my collection anywhere else. They both add a slight intrigue to your eyes without being too loud or bold while still making a statement. Gateau, especially!
The only downsides to this palette is maybe the chalkiness of certain shades, Pamper for one. But if you just apply it a bit more carefully than normal, this doesn't come across much on the lids.
Bottom Line: Amber LOVES!!!!!

<3<3<3<3<3
I'm not exaggerating when I say that this is truly my prize palette in my entire stash of shadows. I actually think now that it's a blessing that they sent me a faulty palette at first since now it's almost like I have 2 because I'm sure that shades like The Mail and Gateau are going to get used up quick.
You can get this palette at sleekmakeup.com for $10.50 (best 10 bucks I've ever spent!) Shipping is $10 to the states, but according to MusingsofaMuse.com, they may be adjusting the shipping prices down to a possible $5 in June! The shipping price is the only thing that has kept me from going crazy on their website so come June it's on like Donkey Kong :)
JUST A NOTE:

Here's a picture of the palette they originally sent me:
If you compare this picture with the picture of replacement palette I have you may notice a change in texture of the shadows. It seems that they have begun to make the shadow surfaces smoother. I'm not sure if I like this or not yet, it seemed to be easier for my brush to pick up the product when the surface had the deeper square imprinting. I'll get back to you on that.....