(Firstly, this is my 100th post! YAY!! I can't believe I only started this blog just this past November, it feels like I've been doing this a lot longer! I just want to take a moment to thank all of my readers for sticking with me. Writing this blog and being apart of the beauty community has been the greatest treat. I love you all <3)
As a huge fan of the Pixowoo sisters, I've been dying to get my hands on some Sleek palettes for well over a year now as Sam & Nic are always using them. I couldn't believe a drugstore brand existed where such excellently pigmented shadows were available at such reasonable prices. The problem: Sleek Cosmetics is a UK brand that at the time wasn't available in the US :( Problem #2: When they finally did offer their products for sale internationally online shipping was a little steep for me to afford :( Well, after some successfully stalking of their site I caught them on a day where they were having 50% off their shipping so I took advantage of it and scored some swag. I'm going to introduce the products individually so this first post will feature Sleek's Me, Myself & Eye palette! So take the jump for the review and swatches!
What attracted me to this particular palette was the incredible range of colors. A red! Mint! Where else am I going to get those in 1 palette? Before swatching I was literally praying that they would turn up as pigmented as they looked. And what do you know, they were!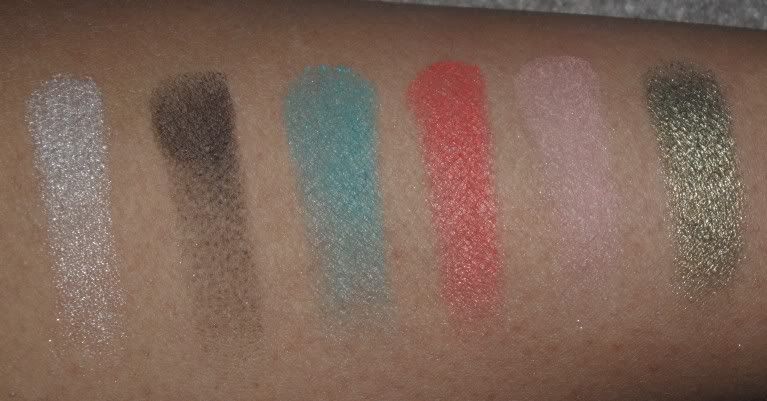 Me, Myself & Eye Top Row
From left to right you have Barry White (metallic white w/ shimmer), Black Box (matte black), Salt 'N' Peppermint (matte mint), Simply Red (matte almost-orange red), Pink Beret (matte pinky peach), and Primal Green (antique golden olive with shimmer).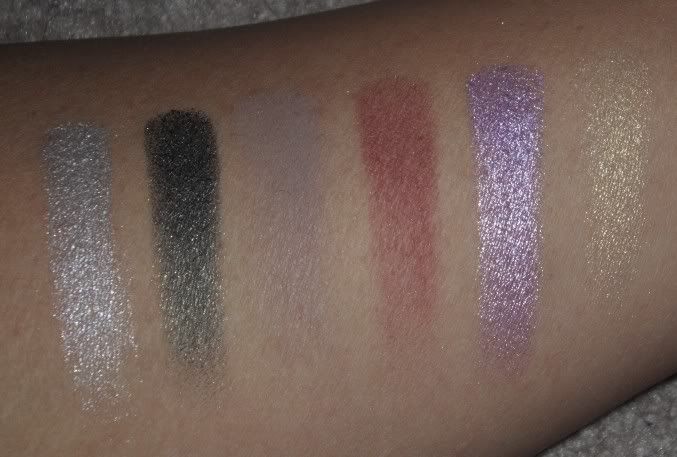 Me, Myself & Eye Bottom Row
Once again, left to right: Fade to Grey (metallic silver w/ shimmer - very similar to Barry White), Blue Monday (almost black w/ blue shimmer - looks evergreen in the pan), Supernova (matte taupe), Chris De Burgundy (matte burgundy), Lilac Allen (metallic lilac w/ shimmer), Golden Silvers (buttery gold with silver shimmers)
How cute are the names? Salt 'N' Peppermint? Lilac Allen? I'm a sucker for cute names on cosmetics. But most importantly, for the most part, the shades are very pigmented. The only shades that were a bit on the chalky side was Pink Beret and Supernova, but to be honest that is usually what I expect from the typical matte shades from anyone.
I'm going to withhold my official review on the shadow palettes for when I do part 2, which will be up soon with a sample eye look from both. I will say quickly though that I love this palette and can't wait to really sit down and play with it! Salt 'N' Peppermint is SCREAMING my name.
Till next time, love ya madly!
Amber Joy <3